Review: Flipboard for Windows 8.1 Finally Launches
Surface RT and Surface 2 users are a patient bunch when it comes to App availability. The Windows Store is full of a lot of crap Apps and many of the big names are missing. Even some of the big names that exist don't regularly update their Apps. But a long awaited entry into the Windows Store showed up finally today. Flipboard for Windows 8.1 was released this morning. It's available across the Windows 8.1 line, so whether you're in the RT world or the real world of Windows 8.1 you can download it now.  Sorry Windows Phone users it's not available for you yet.
Flipboard is essentially an App that lets you curate sources that interest you and view them in a magazine format. Sources can be Twitter feeds, Facebook, RSS feeds, and Flipboard recommends broad areas of interest as well. Many of your favorite publications are now creating Flipboard magazines for you to follow. You can subscribe to those magazines or other content as you discover it. You flip through pages of sources and also through articles within a source. You can search and discover new sources of interest and add them to your Flipboard. You can also create Flipboard magazines that you curate yourself adding information from a variety of sources into areas of your interest. Flipboard debuted initially on iOS then finally made it to the Android platform. Now Windows 8.1 users can add it to their Start Screen.
The Windows 8.1 version of Flipboard gives you a Live Tile on your Start screen in which you can see content scroll by if that's your choosing.
Actually the metaphor for the way Flipboard displays content has looked very much like the Windows 8.1 tiles since its inception. A recent update to Flipboard, prior to the Windows 8.1 launch, brought a very colorful design look on other platforms. This carries through to the Windows 8.1 edition.
Flipboard has embraced the Windows 8.1 Touch UI. You can swipe up from the bottom of the screen to get to controls. If you wish to edit your profile you can find that under settings by swiping in from the right and choosing Settings from the Charms Menu. Swiping down from the top of the screen brings you options to see "Contributors" or recommended "People Also Read" sections.
You can snap Flipboard to one side of the screen or the other and still flip through your content with another App running alongside. Users can also pin a some magazines or sections to their Start screen if they like.
An interesting observation from early use: Flipboard is one of the first Windows 8.1 Apps that actually looks pretty good in portrait mode on the Surface 2.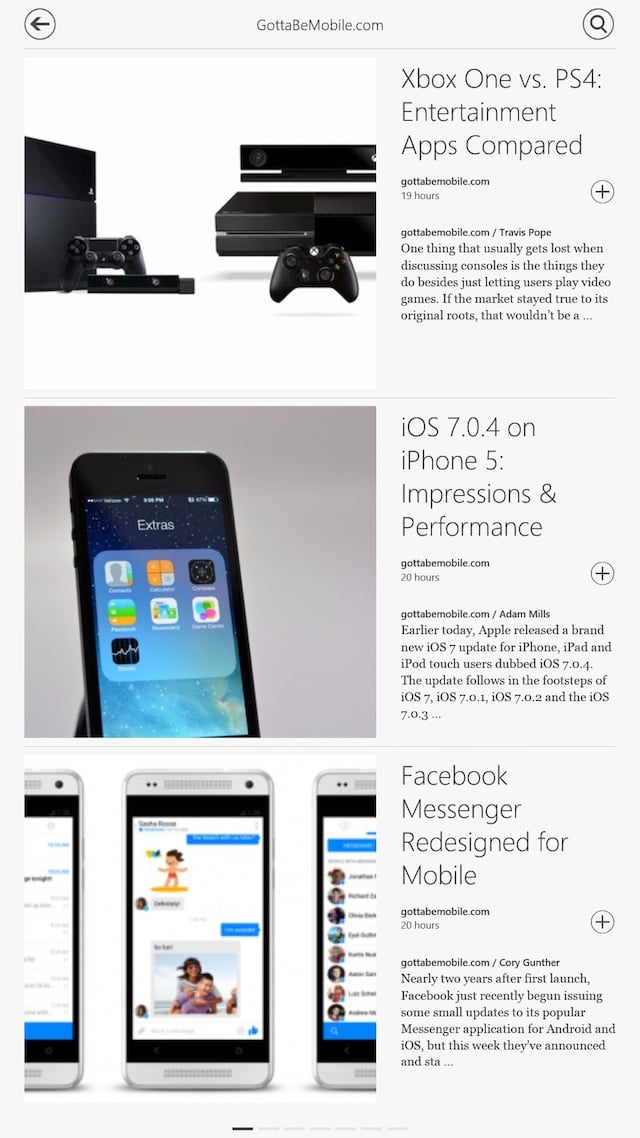 The widescreen format of the Surface Tablets doesn't tend towards great App experiences usually, but Flipboard looks quite nice and actually makes the tall, vertical alignment of the Surface 2 in portrait mode feel a little more normal.
All in all it looks like whatever time the developers of Flipboard took resulted in a quality Windows 8.1 product. Flipboard is one of my favorite Apps on iOS or Android. I use it regularly and have created a couple of magazines where I keep different sorts of content. Flipboard for Windows 8.1 looks like it will be an important addition to my usage of the Surface 2 as well. I could easily see someone filling up their Start screen on a Surface 2 with Flipboard magazines and using that as a reading device.

This article may contain affiliate links. Click here for more details.