Review of Nikon D7000 with Pete Sampras as Test Subject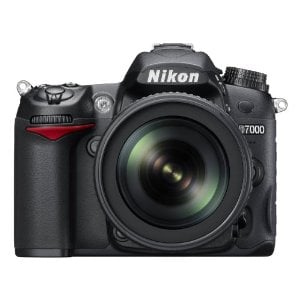 This is a quick review of the Nikon D7000, highlighting a real world usage scenario. It's not an exhaustive look at the D7000, but I hope it gives you a good idea of what it's like to use this camera if were thinking of buying it to take pictures at sporting events.
Last night I had the chance to enjoy a private reception and exhibition match at the SAP Open in San Jose with my wife, who works for SAP. There were about a dozen iPads on display at the reception, showing off apps that integrate with SAP's complex software, but the highlight of the night was a friendly match between Pete Sampras and  Gael Monfils. I took the opportunity to try my Nikon D7000 at a professional sporting event for the first time.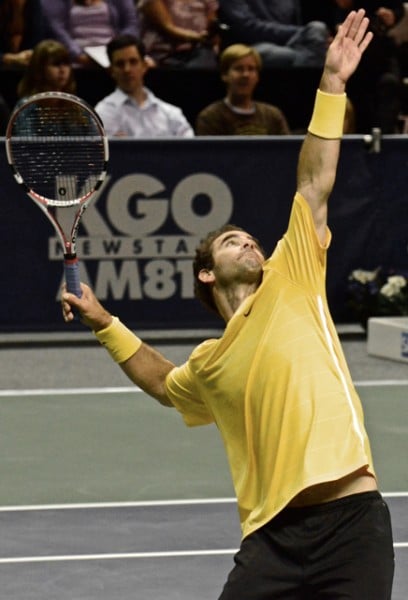 As I've written before, I like thin and light gadgets as much as the next guy, but I prefer lugging my DSLRs to important events or when I want to take my best shots. Sometimes there's simply no other choice than a fast DSLR, such as when NASCAR or IndyCar drivers are zooming past you at 200+ MPH.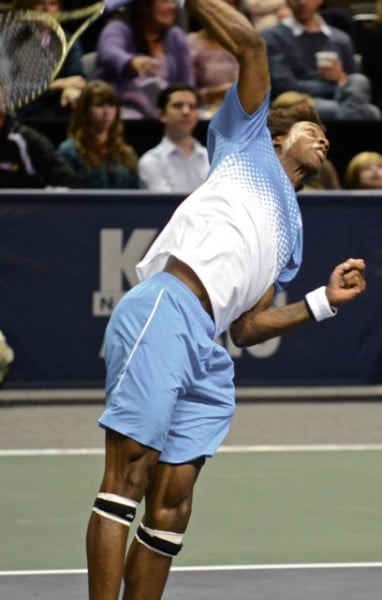 The Nikon D7000 is a new DSLR that's on the upper-end of Nikon's consumer DSLR lineup that retails for about $1,199. I bought it has better video capabilities than its predecessors and is relatively lightweight and compact compared to the Nikon D700, which is my favorite DSLR for still photos.  The Nikon D7000 is also only half the price of the Nikon D700 (similar model number, but one less zero). The Nikon D700 is simply overkill for most people.
At the tennis match I sat in the seats and used my camera from a vantage point that almost everyone does when attending sporting events- from the stands and not from the floor or press area. I affixed my Sigma 70-200mm f2.8 lens to the Nikon D700 and shot several dozen frames.
Even though this was only an exhibition match and Pete Sampras is long past his prime, it was a treat to see two outstanding athletes going at it. The photos above and immediately below are my favorite shots from the night.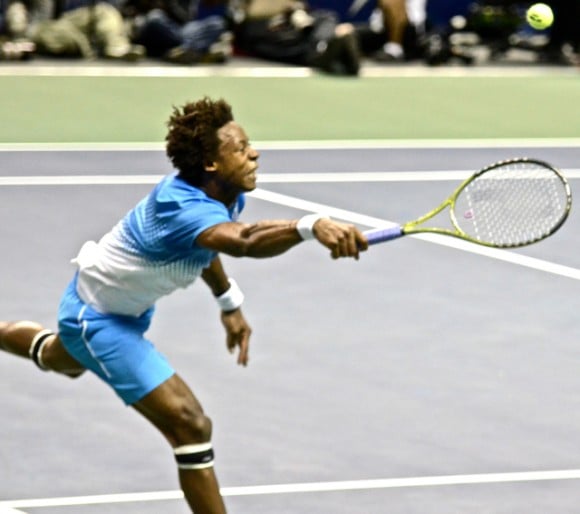 Tennis balls and the players themselves move much more quickly in real life than they appear to on TV. In order to freeze the action I had to crank up the shutter speed to 1/500 to 1/1000 of a second. Indoor stadium lighting isn't nearly as bright as sunlight, which means I had to boost the ISO to 3200 to 4000. The Nikon D7000's images are are more than acceptable in this ISO range.
Nikon D7000 Continuous Shooting Mode
I shot the above video with the Nikon D7000 to illustrate what a little over a second looks like when watching a professional athlete. How the heck are you supposed to shoot that?  Simple- the Nikon D7000 is capable of taking photos at six frames per second right out of the box.
Anyone that tells you they're skilled enough to capture the exact 1/1000 of a second they want to without continuous mode is either a magician or lying. With the D7000, you simply turn a dial to get into high speed continuous shooting mode and hold the shutter down until your subject's finished his stroke or other fast movement.
Here's a series of pictures I took of Pete Sampras serving while using continuos shooting mode. As you can see, a fraction of a second can result in an entirely different shot.
0 second: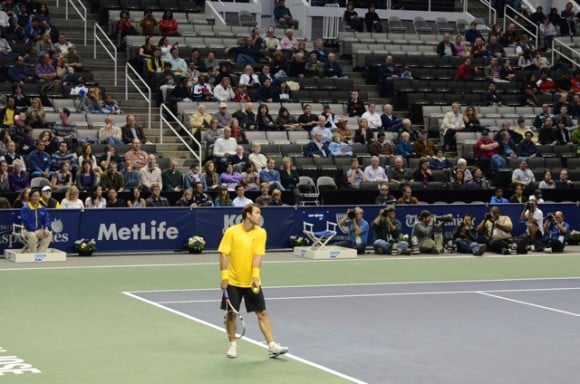 1/6 second: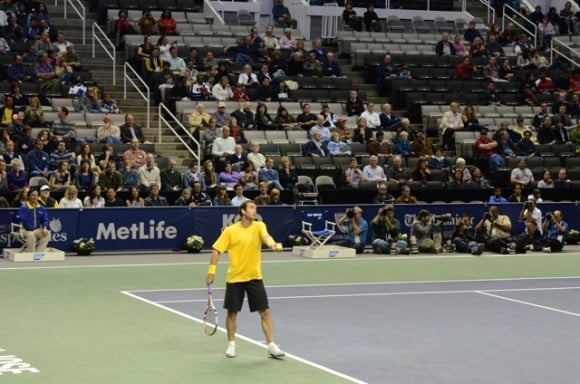 2/6 second: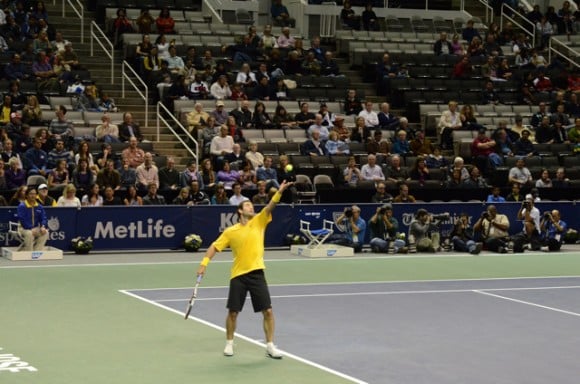 3/6 second:
4/6 second: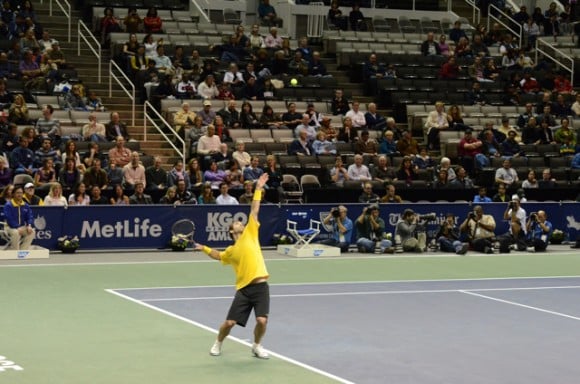 5/6 second:
1 second: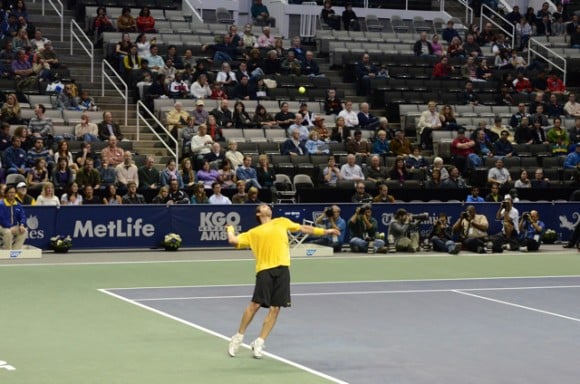 1 1/6 second: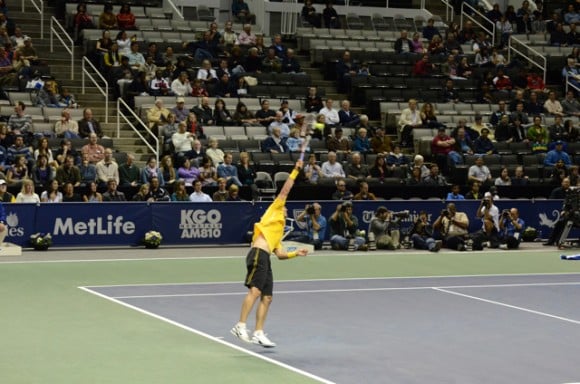 1 2/6 second:
As you can see, a lot can happen in a little over a second. A fraction of a second can be the difference between shooting a picture that will be framed or discarded as junk.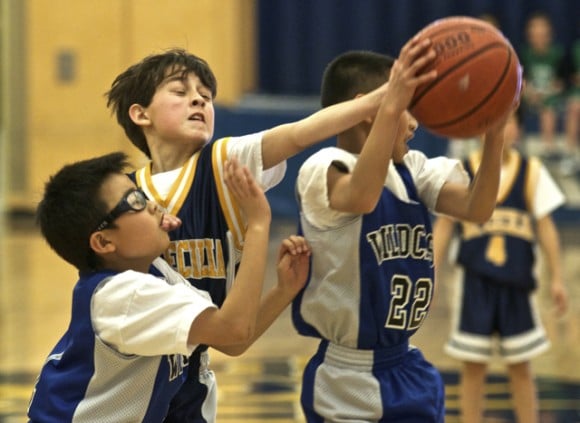 The Nikon D7000 can make little athletes look as good as the pros. Here's my current favorite photo of my nephew as he goes for a steal at his basketball game last month. That shot made my day and it was more than worth crouching on the sidelines for a half hour to get it. But if I wasn't shooting in burst mode and was off by even 1/6 of a second I would have had one of the two below uninspiring shots or worse.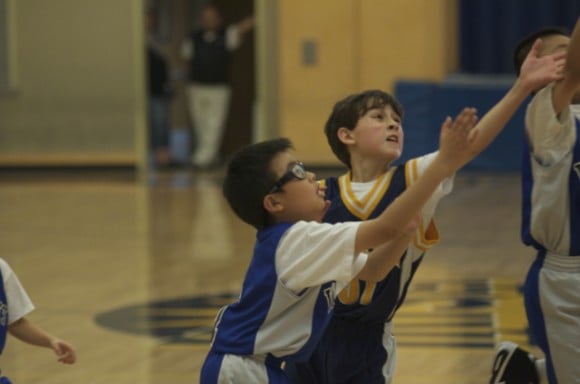 This is just a fraction of a second before I panned right and snapped the picture of him punching the ball out of his opponent's hands.
And this one is less than a 1/5 of a second after he knocked the ball away. If I were shooting with a Nikon D3100 (3 frames per second) or  D5000 (4 frames per second), I may have missed the shot I like the most. My Nikon D700 fires at up to eight frames per second, but only with a bulky battery pack attached, which is too heavy for casual shooting.
Nikon D7000 Movie Mode:
Movie mode with the Nikon D7000 is a mixed bag. On the plus side you can take some great looking footage. On the minus side, it's far more difficult to operate than a standard video camera. Continuous video auto focus is a new, supposedly great, feature on the D7000, but in practice it's slow and noisy. You can actually see and hear the lens seeking the right focal plane. The noisy part of the problem can be abated by using a shotgun or lavalier mic, but otherwise you'll hear whirring and clicking.
The image sensor in the Nikon D7000 is much larger and precise than the sensors found in consumer camcorders. Combined with high quality lenses, the D7000 performs very well in low light. The above clip was shot in the Catholic church my grandmother used to bring my mother to.
With the D7000 and a decent lens, you can create clips that are nearly as good (or better) than what you see on TV. The D7000 shoots in up to 1080p and the results look absolutely stunning on my HDTV. My Nikon D7000 is now my primary video camera for shooting interviews and video reviews.
It's great for relatively stationary subjects, but I wouldn't want to use it to chase my nephews around the house. The slow autofocus is especially challenging since the depth of field is much shallower than what I'm used to with camcorders or my iPhone. For most people, it'll be too much work to use the D7000 as a video camera. If you have the time and patience, you can shoot some amazing stuff, but you'll need to approach shooting sports (or any other subject) as shooting a film. Think NFL Films vs. a live broadcast. You'll be able to capture more dramatic shots, but you'll also grab a lot of out of focus shots and crappy audio.
Here's an example of what Chase Jarvis, an accomplished photographer, did with the Nikon D7000, a bagful of lenses and a miniature helicopter.
And here's the making of the short film and a look at how the D7000 was used.
Nikon D7000 Recommendation
At $1,199, the Nikon D7000 body is a much better buy than the Nikon D3100 or D5000 if you're a serious hobbyist or aspiring professional. While the D5000 is a few hundred bucks cheaper ($629), it really isn't that much if you plan on buying several high quality lenses and accessories. If you're passionate about photography and aren't looking for a bargain basement DSLR go for the D7000.
The Nikon D7000 is $1,199 at Amazon.com, which is where I recommend buying it due to their liberal return policies and free shipping.