Review: PhatPad for the iPad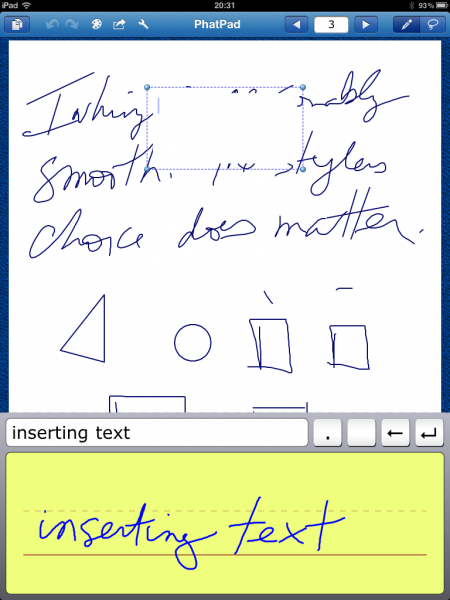 Digital Inkers will want to check this out. No question about it. Is PhatPad for the iPad an App that will make Digital Inkers forget Tablet PCs. No. We aren't there yet because we all know we're going to need a hardware and software solution before that happens on present day Tablets and Slates. That said, PhatPad for the iPad from Phatware comes as close as I've seen to creating an all in one Digital Inking Solution.
What do I mean by an all in one Digital Inking Solution? I'm talking about being able to take notes digitally with a dreaded stylus and having the choice to leave those notes as Ink or convert them to text with handwriting recognition. PhatPad for the iPad gives you that choice.
Created by Phatware, the company that also created WritePad for the iPhone and the iPad, as well as PhatPad for Windows and other Digital Inking apps for other platforms, is what I think of as a next step for all of us Digital Inkers. Is it perfect? No. But it is a big step closer and I applaud the team working on its development.
Let's cover some of the basics.
Like WritePad you can convert text using handwriting recognition. Scribble out your text, select it, and simply choose to convert it. Be warned this handwriting recognition is not as good as what Windows offers. You have to write well enough or you'll be using the correction routines by selecting a word or phrase and using the TIP like interface or the keyboard to make a correction.
Now, one step beyond WritePad, PhatPad allows you to also just take notes on a blank page and leave them as Digital Ink. Yes, there is Palm rejection that you can turn on or off. Is it as smooth as Penultimate or Noteshelf. Almost but not quite. But it is good enough in my opinion. A lot also depends on the stylus. I had better luck with the Targus or Boxwave styli than I did with a PogoSketch or HardCandy stylus. I'm betting this is an individual thing that may or may not require some experimentation user by user.
PhatPad also includes some basic shape recognition for circles, boxes, triangles and lines and this works reasonably well. Although in my case boxes or rectangles were a bit tricky. Again this is a user selectable feature that you can turn on or off.
PhatPad also includes multiple options to get your notes off of your iPad out to where they can do you some good. Happily the App uses the Dropbox API which automatically saves your notes to a directory in your Dropbox. You can also export your files to PDF, share them via WiFi (if you're on the same network) or take advantage of Apple's iOS AirPrint feature if you have a compliant printer or an App that makes this possible.
If you want to add text labels to a document you can do so either by Inking (via the TIP like interface) or using the keyboard. You've got some options for text styles. You can also insert pictures into your documents as well.
In my testing of PhatPad for the iPad I'm genuinely impressed. I'm not a handwriting recognition note taker. Admittedly I confound the recognition engine quite a bit but I know of others who have had very good luck with it on PhatPad and also with WritePad. But the fact that PhatPad allows both handwriting recognition and leaving notes as Digital Ink gives me an option that I didn't really have before.. Again, PhatPad for the iPad isn't perfect. It won't make Windows Tablet PC users forget the advances Microsoft has made with its Inking. Your mileage may indeed vary depending on how you take notes. Inking on an iPad is an adventure in evolution and I'm glad we've got folks like Phatware working to make it happen.
PhatPad for the iPad will set you back $4.99.