Review: Samsung Fascinate from Verizon
Verizon Wireless has another hot Android phone in thier lineup, it's called the Samsung Fascinate. This one has been out a couple months now, but it's still worth taking a look at. The Fascinate is part of Samsung's new Galaxy S lineup of phones which offers the same core features as similar phones on the other major US carriers.  Like other Galaxy S phones, the Samsung Fascinate features a 1GHz Hummingbird Cortex A8 processor, Android 2.1, and a stunning Super AMOLED screen. The 4-inch Super AMOLED screen is bright and responsive to the touch.
I used to prefer slide out keyboards, but I have been using the iPhone 3GS as my primary device so not having a physical keyboard wasn't too tough to get used to. I haven't reviewed a phone since I reviewed the Samsung Moment almost a year ago. I have tested several other phones, but I haven't taken the time to actually review one properly. The quality of the software and hardware for most Android phones has drastically increased in that time. I haven't disliked the Android OS in the past, it just hasn't impressed me until now.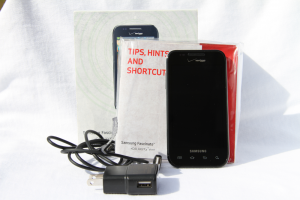 WHAT'S IN THE BOX
Samsung Fascinate
1500mAH Standard Battery
AC Charger
16GB MicroSD Memory Card (installed)
Guide and other literature
Unboxing and Hardware Tour
https://www.youtube.com/watch?v=xboganlZ4G0

THE DESIGN
The front of the Fascinate houses the 4 Android capacitive buttons along the bottom, the menu, home, back, and search buttons (left to right). Above the 4″ Super Amoled screen you can see a couple of sensors and the speaker grill.
The rear of the Fascinate shows a 5 megapixel camera with LED Flash, the Galaxy S logo, and just below and to the left of the logo is another speaker.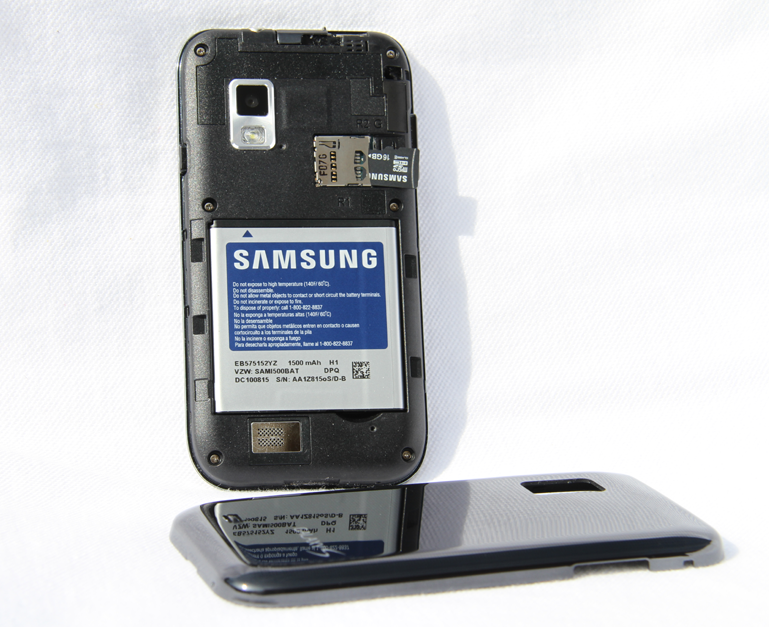 With the back cover off, you can see the MicroSD slot (with a 16GB preinstalled card) and the 1500mAH replaceable battery.
The top of the Fascinate has a 3.5mm headphone jack and a charge sync port that has a handy sliding cover to prevent dust from entering.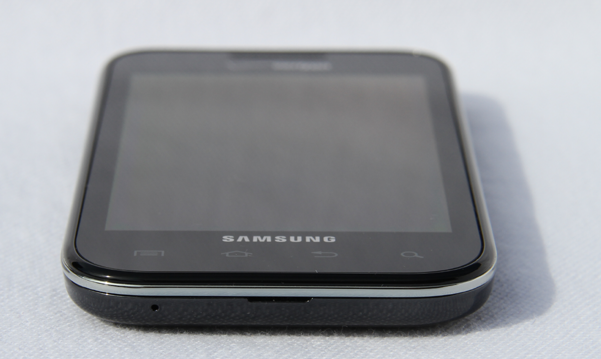 The bottom of the phone has a groove to remove the back cover with as well as the microphone. Nothing fancy here.

The left side of the Fascinate house the volume rocker and a notch, which I have no clue what it's for.
The right side is pretty bare as well, it has only the power button. Notice that there is no camera button at all? Yes, it's true. Like the iPhone, the camera button is software only.
Connectivity and Call Quality
The Samsung Fascinate works well as a phone, unlike some smart phones. No dropped calls, no static. The microphone location made my call quality from the caller on the other end a little shaky in heavy wind, but that is to be expected. I logged 5+ hours of talk time and didn't notice any issues with call quality.
With Verizon's coverage being on the weak side on the fringe of my town, I relied heavily on the Wi-Fi but when I was in town, at work or traveling, I had stellar signal from Verizon. WiFi and Bluetooth work as advertised and I had zero issues with dropped Bluetooth calls.
Camera
The camera is one of the better cameras I have used on a smart phone. Aside from some really good Nokia cameras, I've had bad luck with mobile photos. I used this camera to capture little moments to share with Twitter just as much as I do with my iPhone. The images are pretty clear and the flash does a great job. The software is easy to use and has plenty of options. You can switch from camera mode to video mode on the fly. Like I mentioned earlier, the camera button is software controlled, but provide a good auto focus. Video capture is fluid and the quality of the video is stellar in lighted situations. In a video test below, you can see how it does in lower light situations, not terrible, but not perfect either.

Sample raw images strait off the camera: (click to enlarge)
Quick demo of the video camera in a low light setting:
Software
The Samsung Fascinate runs Android 2.1 and it's been told that Verizon expects an update to 2.2 by the end of the year.
Samsung has their custom UI on top of this Android release called Touch Wiz. The Touch Wiz version is 3.0 and I like what Samsung has done. I seem to be one of the few that do though. Many of my peers dislike Touch Wiz for various reason. I like what they have done with the application launcher and the phone controls most of all. With the launcher, Samsung takes a play out of the iPhone's book with side to side scrolling of icons rather than one big list of icons. The 4 wide quick icon bar at that remains constant through the 7 home screens is quite handy as well.
There is plenty of preinstalled, Verizon software like VZ Navigator,Verizon 3G Mobile Hotspot, Blockbuster, Mobile IM, My Verizon Mobile, Skype, VCAST, Visual Voicemail, and Bing. Google Maps is not installed, instead you have VZ Navigator installed.
The Fascinate also comes with Bing Search rather than Google. The word on the street is that this will change with Android 2.2 for this device. If you like to tinker with your phones, you can change this now, but the average user isn't going to want to mess around with this.
Software keyboard! There is nothing better than Swype and this phone has it. It takes a few tries to get used to Swype, but once you do, it's great and you can swipe away and trust the software.
Social Networking? Download your favorite Twitter app and the official Facebook app. Samsung's TouchWiz 3.0 social networking intergration is awful. It relies heavily on a single widget that is clumsy.  I prefer Tweetdeck, but there are some other great choices for you to use in the Marketplace. I am not a fan of social media needing to be interlaced into the OS build and it seems too many companies are trying to do that lately.
Performance
With a super fast 1GHz Hummingbird processor, the Samsung Fascinate had no trouble. The only time I noticed any slow down was coming from a complete power off. There was a little bit of a lag for 20-30 seconds after that. Just like with Windows Mobile back in the day, you do need to monitor running applications. If you let the apps run in the background, they can add up and you might suffer a performance hit. Other than those issues (or non-issues), the Samsung Fascinate has a total clean bill of performance health from me.
Battery Life
I have heard reports about the battery life not being great with the Fascinate. I don't agree. I am a heavy user and with WiFi on, 3G on, and Twitter (Tweetdeck) and Gmail notifications being pushed constantly all day, I still made it home from a 10 hour work day with 30% battery or better. The battery is a 1500mAH  removable battery and it did well for me.

Conclusion
I have used several Android phones in the past, most recently the Droid X. Most of the phones so far have used software prior to Android 2.1 since I took a 6 month break from writing. I say this to qualify the following statement. The Samsung Fascinate is my favorite Android device to day. Please understand that I haven't had hands on with many of the newest Android phones yet. If I were a Verizon customer and had to choose a new phone today, it would be a toss up between this and the Droid 2 and I would probably lean towards the Droid only because of the slide out keyboard. The Droid Incredible from HTC is very similar and another alternative too. Verizon has so many similiar Android phone that it makes it really tough for customers to choose.
Overall, my time with the Samsung Fascinate was quite enjoyable. I was able to make it day to day without having to find another way to do business. Other than the time to set up applications I am used to using on the iPhone, there was no real pain in using it as my daily driver. The battery life was suffecient to get through a day. The Gmail usage was much better than any non-Android device I've used which made it even easier to use. The web experience was great and I even liked Bing search.

PROS
1GHz processor makes this phone smoking fast
Super thin form factor that doesn't feel to "fragile"
4″  Super AMOLD screen is perfect inside
Great call quality
16GB microSD card pre-installed
CONS
Buggy GPS perfomance
Screen is almost unreadable outside
Backlight on the capacitive buttons extinguish too fast
Back cover scratches easily
Price and Availability
The Samsung Fascinate is available from Verizon for $199.99 (after $100 mail in rebate and 2 year contract commitment)

Comparison Shots
This review was done based on 1 week of constant use with a loaner unit provided by Verizon Wireless.