Review: Sprint MiFi 3G/4G Mobile Hotspot (Video)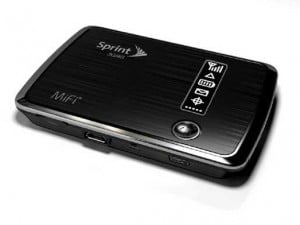 With the Sprint MiFi 3G/4G mobile hotspot from Novatel, gone are the days of searching out for free or paid hotspots at cafes and bookstores.Users of Sprint's MiFi 3G/4G mobile hotspot can connect and share the same mobile broadband data access plan with up to 5 other devices over WiFi with speeds of between 3-6 Mbps and peak speeds of 10 Mbps on 4G WiMax, according to Sprint, and where 4G is not available, the device can default to 3G CDMA/EV-DO connection, which is more ubiquitous.
I've been testing out the Sprint MiFi 3G/4G Mobile Hotspot since CTIA Spring 2011 several weeks ago, and the device delivers as promised. In actual use, I routinely get around 2-4 Mbps in the San Francisco, California Bay Area. I've been able to successfully connect a Mac laptop, a PC, an Android tablet, and several other WiFi-capable devices to the MiFi.
Check out the review video, embedded below, to get my full thoughts and conclusions about the MiFi:
The device continues the excellent tradition of the original Sprint MiFi, also made by Novatel, but this time 4G is added. What really sweetens the deal here is Sprint's ability to truly deliver unlimited data access over 4G. When users are using the MiFi 3G/4G on a WiMax connection–you'll be able to determine this by the blue LED indicator light on the front side of the unit–you can enjoy unlimited internet access each month–no data caps, no speed caps unlike other carriers.
The MiFi retains its compact form factor and is smaller in footprint than the original Overdrive made by rival Sierra Wireless. The new E-Ink display on the top gives users access to important network information–wireless signal strength, battery level, and GPS–but you'll still need to rely on the multi-function LED indicator light at the front side to determine things like if you're connected to 3G or 4G.
With a larger and more capable 1500 mAh battery, the MiFi was able to deliver me over 4 hours of Internet connectivity over 4G in a sitting. Unlike the original Overdrive, I didn't notice any issues of overheating, which is nice as the original Overdrive battery expanded and is bulging due to heat issues. In my test, I left the MiFi on and powered through a wall charger for a period of two weeks where I used the device exclusively as my home Internet connection. During that time, the device got slightly warm, but not hot. When I had done the same test with the Overdrive about a year ago, the Overdrive's battery bulged out and I was afraid it might explode or catch on fire. Also, though the competing Overdrive has a removable battery, neither Sprint nor Sierra Wireless–its maker–provided a way to purchase spare or replaceable batteries. With the MiFi, you can find batteries for the device online through a number of retailers, and though the AT&T MiFi 3G battery isn't slated to be compatible with the Sprint mode, I find that it does work fine.
The benefit that the Overdrive has over the MiFi 3G/4G is that the Overdrive is able to deliver a lot more information about connectivity, how many users are on your mobile hotspot router, and if you're on a 3G or 4G connection, I think that the severe overheating problem outweighs the benefits of the more capable LCD display. Additionally, given Xavier's problems with the device–slow startup time, un-reliable connections, and slow data throughput–I would recommend the MiFi over the Overdrive. Of note, Sierra Wireless and Sprint now has a second-generation Overdrive Pro since the original Overdrive was released.
Though speeds were generally a bit slower than Verizon's comparable 4G LTE MiFi device–made by Novatel–Sprint's unlimited 4G data plan may offer a better overall value for mobile road warriors who rely on their mobile routers for Internet connectivity. Additionally, unlike the Verizon model, the Sprint MiFi 3G/4G also has a micro SDHC card slot, which allows users to share files on their network, which can be great for using the MiFi in a small conference room or hotel room with work colleagues.
=

As an Amazon Associate I earn from qualifying purchases.