Review: T-Mobile HSPA+ network and WebConnect rocket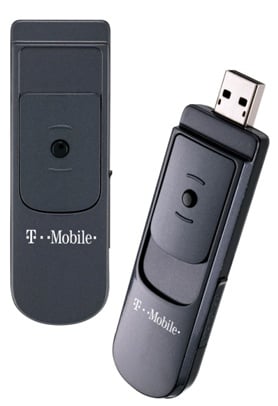 Hey, did I mention I got to evaluate T-Mobile's upgraded HSPA+ network via their WebConnect rocket laptop stick, a.k.a. USB modem? Yeah, shot some video on location while testing it too. But let's say you just want to read how and see where it works. This write-up's for you.
Again, I have a little InkShow with clips shot on location of the network and USB modem in action. On top of that, I took notes on my findings, put together a couple of maps, and wrote up this evaluation of the modem and network. First, the network.
T-Mobile's HSPA+ network builds on HSPA. The "+" means it offers greater speeds, up to 21 Mbps. Furthermore, T-Mobile is backing that up with better backhaul (hard lines) and spectrum so those faster speeds aren't bogged down in narrow, crowded paths. It's backward-compatible, so in addition to new devices, like the WebConnect Rocket, many existing devices built for HSPA will also benefit from the speed boost.
For my tests, I ran the usual speed test via SpeedTest.net, but of course, tracking a single data packet doesn't tell the whole story. On top of that, I gave the network a real test by watching one our InkShows while simultaneously downloading multiple chunky PDFs. A network that can handle one download is good. One that can handle several at once is great. T-Mo did not disappoint.
My testing started where I live in Reston, Virginia. The Washington, DC suburbs is one of the places where T-Mobile's HSPA+ network is being rolled out. I hit five locations around town and a couple a bit out of town, and plotted all seven locations on a Google Map. Here in Reston, the results were pretty consistent. Standalone speed tests showed 4-6 Mbps download and 1.2 Mbps upload. Simultaneous video and PDF downloads were pretty good too. There were glitches, particularly around the Reston Town Center, but I didn't see anything that would interfere with normal use. At worst, you'd need to settle for downloading a few 3-5 MB PDFs before you watch a video, not during.
One caveat: despite my success around town, T-Mobile's network couldn't cut through the forest that surrounds my house. Less than a quarter mile away, in the open air of Hunters Wood park, I saw some of my fastest speeds (7+ Mbps), but I was stuck with EDGE in my dining room. This is actually typical of most networks here, so I can't complain.
I took the Rocket along with me on a trip further south with less spectacular results. Got a decent signal at Fair Lakes Shopping Center, but the speeds were really low (less than 1Mbps) and video stuttered even without PDFs downloading. Another stop, Dogfish Head Alehouse, was a little more north. Signal there was weak but the connection was strong (2+ Mbps) and video playback was stutter-free.
As luck would have it, I was up in Philadelphia for a night during my evaluation and managed to squeeze in some testing there. Only three spots (map), but they include the Philadelphia International Airport and Independence Visitor Center right in the heart of historic Philly. Extremely smooth performance at all spots. No stutter on video while downloading 3-4 PDFs. Also, I spotted T-Mobile stores all over the place, so T-Mo is clearly serious about this city.
As far as the network goes, I think T-Mobile's HSPA+ network earned that "+" sign. The Rocket, on the other hand, doesn't quite make my cut. It's a big piece of kit, fine for a laptop user sitting at a flat surface, but I wouldn't recommend walking around with it sticking out of your Tablet PC or ultra-mobile.
The Rocket includes a slot for a microSD card for storage up to 16GB. Great idea since it occupies a USB port that could obstruct a flash drive. I had the bright idea of running PortableApps from the card, specifically Firefox Portable, effectively putting a full web browsing experience with all my bookmarks, preferences, and extensions on the Rocket to run on any PC. Unfortunately, either my card was too slow (very possible), pushing data back and forth over that port was too taxing, or both resulted in sluggish performance. However, moving the portable app package from the card to the local hard drive worked just fine. While not a secure solution, it is convenient, and you can't use the Rocket without installing software on your PC anyway.
Installing the T-Mobile WebConnect software was a snap. The installer is pre-loaded on the Rocket and took less than ten minutes to get up and running. Unfortunately, the installer prompt pops up every time the Rocket is plugged in. On one hand, it lets you know that the Rocket is up and running. On the other hand, it gets annoying. I also got hit with a Blue Screen of Death, a feat I repeated, while pulling it out. Tried to do the "safely remove hardware" thing, but the installation software relentlessly popped up after each attempt. That seemed to actually set up the BSoD situation when removing the Rocket. Skipping that and completely exiting the T-Mobile WebConnect software (not just minimizing it to the taskbar) seemed to avoid the problem consistently. An integrated solution, like the embedded modem in their Dell Inspiron Mini 10 netbook, or a smartphone would be a better bet.
Regardless of how you connect, T-Mobile's HSPA+ network was a solid performer for me. The initial launch area is very tight. The DC suburbs and Philadelphia are getting the early treatment, but its expanding from there. Be sure to check your service map. Thanks to T-Mobile for letting me give their network a grilling (and to Josh Smith for remembering where I live). I'm so glad my personal time-space continuum aligned with their so I could do this two-town test.

As an Amazon Associate I earn from qualifying purchases.