Review: Valentinus Leather Case / Wallet for Galaxy Note by Spigen SGP
We all know that the Samsung Galaxy Note is a big phone even among the current crop of big smartphones. That doesn't bother the many thousands of you who went out and bought one, and good on you. It does present a challenge in picking a case for it, though.
It already has a significant footprint, so you don't want to add a lot of bulk, yet you still want to protect it. Samsung's cover is a good solution since it replaces the back completely, thus only adding a few millimeters, overall.
But since the GNote is already a pretty versatile device, why not pick a versatile case? One that does more than just protect and can replace another item you carry every day. Like your wallet.
(Read: Samsung Galaxy Note Review)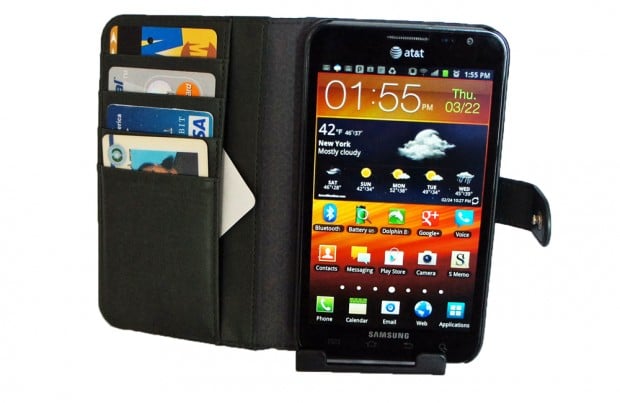 This week I ditched my wallet and put all of my credit cards, transit pass and cash in the [amazon_link id="B006ZZSX5S" target="_blank" container="" container_class="" ]Valentinus leather case[/amazon_link]. This cover is made specifically for the Galaxy Note by Spigen SGP and costs $44.99.
The design is pretty simple and straightforward. A plastic piece on the right side holds the GNote securely in place It covers the sides completely — with cut outs for the buttons — as well as the back, providing some protection. The top and bottom remain exposed, though. On the left flap there are four card slots and another pocket behind them for cash, receipts, etc.
If you're the kind of person that carries every tiny slip of paper in their wallet plus tons of change and every business card in the world, the Valentinus isn't going to be enough for you. I tend toward that a little bit, so I had to empty the large pocket every night instead of once every few weeks. The overall convenience made this less of an issue for me as the week went on.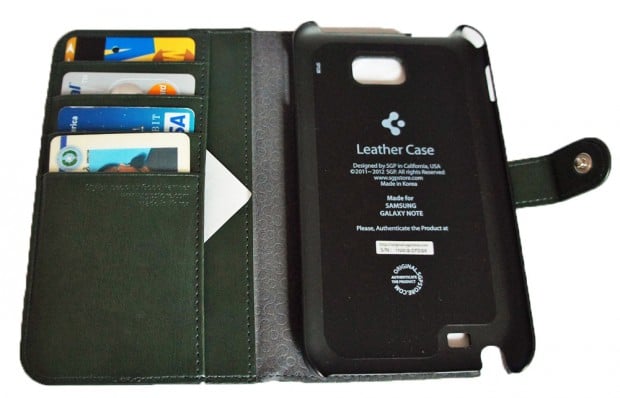 The little flap that keeps the case closed attached by snap — I'd prefer a magnet here for ease of use, but I suppose that might be a consideration for the credit cards that might not like having a magnet nearby.
I initially worried about my cards scratching the screen, but the way that pocket is designed the screen only comes into contact with the soft leather. I haven't seen any small scratches or other signs of damage.
(Related: Best Samsung Galaxy Note Cases and Covers)
Spigen placed cut-outs in all the right places. Beyond the ones for the power button and volume toggle there's also one at the bottom edge so you can still quickly access the S Pen, a notch on the back for the speaker, and one for the camera/flash.
Though made form leather, the case is very light. Yes, it does add some bulk to the phone, but not so much that it gets in the way of holding it comfortably. And since you can get rid of your (probably bulky) wallet, the extra girth isn't a big deal.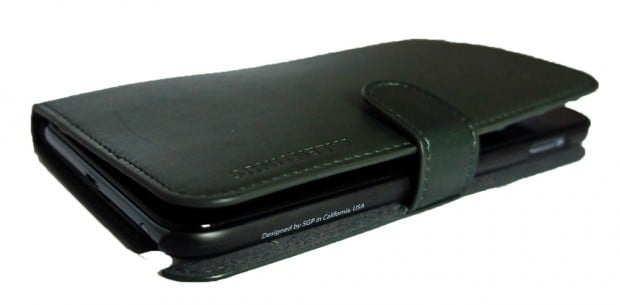 Despite all the flailing about how the Galaxy Note doesn't fit in a pocket, I carried it there inside the case for a week and didn't have problems. Yes, I could feel it all the time — a good thing when you're talking about a wallet; no, I didn't have any trouble walking or sitting down.
I like that the Valentinus looks a bit folio-ish moreso than like a wallet. It'll go nicely with business attire for you enterprise users out there. Aside from some stamping/etching on the front and on the card flap it's a simple, elegant design.
If you prefer something with a bit of extra flash, Spigen SGP recently released two new colors for spring: [amazon_link id="B007LFU6O2″ target="_blank" container="" container_class="" ]Santorini[/amazon_link] (blue/white) and [amazon_link id="B007LFNCH0″ target="_blank" container="" container_class="" ]Fiesta[/amazon_link] (red/yellow). It also comes in standard black, brown, and the forest green in the pictures.
[amazon_link id="B006ZZSX5S" target="_blank" container="" container_class="" ]Buy the Valentinus leather case for the Galaxy Note for $44.99 on Amazon.com[/amazon_link].
(Related: Best Samsung Galaxy Note Accessories)