Rhapsody Crashes The Xbox Music Party on Windows 8
Subscription music fans will have a new native Windows 8 app to stream their favorite music with, Rhapsody.
Following an announcement during this week's BUILD Conference, Rhapsody for Windows is now available in the Windows Store. According to that store page, users will now be able to fully browse and listen to the service's entire catalog of music, as well as save their favorite songs to a local "library" for playback when they aren't connected to the internet.
Though Rhapsody isn't necessarily a bellwether for more applications making their way to Microsoft's Windows platform, the application itself is a serious coup for users who simply prefer more choice in the music services that are available to them. Currently, only Microsoft's Xbox Music and Nokia Music make their subscription services available to Windows 8 users from a native Metro-style application.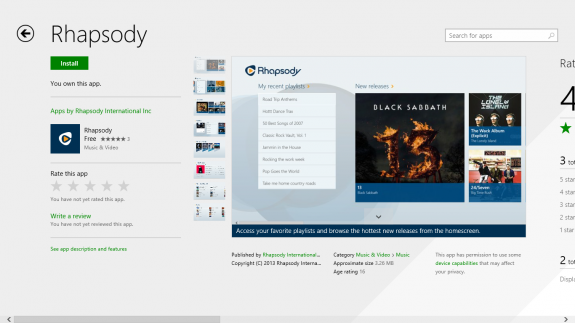 Without a Metro-style application many music streaming services become slightly inconvenient for use with Windows 8 and Windows RT.  In fact, as Windows RT users can't install Desktop applications, music playback on those devices is even more dependent on the service having a decent web based interface.
Popular services like Spotify and Pandora must either be accessed from a Desktop application or through a web browser.
While the application is free, users will need an account and subscription to the Rhapsody service to make use of the application. Currently, the company is offering a free trial and the opportunity to try the service for three months for only $1.
Rhapsody will support most of the features that make Microsoft's Windows 8 unique including integration with the applications Search Charm, a Snap Mode for multi-tasking while still having quick access to the app's playback controls and a Live Tile for checking out the latest music without having to load the application.
While the application is available in the Windows Store right now, it may take some time to reach all users.
Rhapsody is already available in native applications for Windows Phone and the Xbox 360 and through a Desktop application.
The service is also already available on Apple's iOS and Google's Android platforms.

This article may contain affiliate links. Click here for more details.