RIM Announces BlackBerry Bold 9900/9930 (BlackBerry Bold Touch)
This morning, RIM introduced the BlackBerry Bold Touch at its BlackBerry World conference. The device, which had been expected for quite some time, will officially be known as the BlackBerry Bold 9900 and the BlackBerry Bold 9930.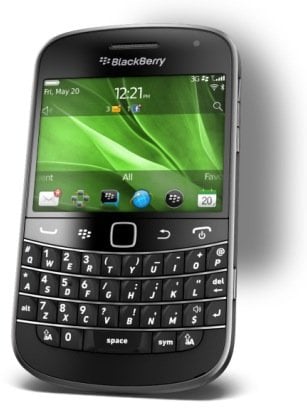 The specs on the device are precisely what we knew them to be. The BlackBerry 9900/9930 will feature a 1.2GHz processor, a 2.8-inch capacitive touchscreen, 5MP camera with 720p video recording, a full BlackBerry style QWERTY keyboard, 8GB of on board storage space, built-in compass, and RIM's new BlackBerry OS, BlackBerry 7.
Both devices will also feature NFC support and a slim, 10.5mm design.
The BlackBerry 9900 will support HSPA+ speeds while the 9930 will run be compatible with CDMA EV-DO Rev. A and HSPA+ global roaming on GSM/UMTS networks.
They will hit carriers here in the United States at some point during the summer with June and July coming up as the months likely to contain launch dates.
—
FOR IMMEDIATE RELEASE RIM Introduces New BlackBerry Bold Smartphones
New BlackBerry Bold 9900 and 9930 Smartphones are the Thinnest and Most Powerful BlackBerry Smartphones yet, Featuring the Renowned BlackBerry Keyboard Together with a Brilliant Touch Screen and the New BlackBerry 7 OS
Waterloo, ON – Research In Motion (RIM) (NASDAQ: RIMM; TSX: RIM) today unveiled two new BlackBerry® BoldTM smartphones. The high-performance BlackBerry Bold 9900 and 9930 smartphones feature a stunning and iconic design that integrates an incredibly easy-to-use BlackBerry keyboard with a brilliant, high resolution, capacitive touch screen. These exceptional smartphones are built on a new, performance-driven platform powered by the BlackBerry® 7 operating system and designed to deliver the ultimate in communications, multimedia and productivity for users around the world.
"The new BlackBerry Bold smartphones and BlackBerry 7 OS are inspired by millions of customers around the world who want the ultimate combination of performance, functionality and style," said Mike Lazaridis, President and Co-CEO, Research In Motion. "These fully-loaded and beautifully crafted smartphones offer a highly refined user experience with blazingly fast performance, a brilliant touch screen and an outstanding typing experience."
Thin, Sleek, Iconic Design
Distinguished by an iconic design and the industry's best keyboard, the BlackBerry Bold 9900 and 9930 smartphones feature the premium materials and finishes that characterize the BlackBerry Bold line. Both models have a lustrous exterior with a brushed stainless steel frame and a high-gloss glass-weave backplate. They are also the thinnest BlackBerry smartphones yet, at only 10.5mm. The quality materials and optimized design of the new BlackBerry Bold smartphones are instantly evident when held in the hand.
Performance-Driven
These BlackBerry Bold smartphones are built on a new performance-driven platform featuring a 1.2 GHz processor, Liquid GraphicsTM touch screen, and support for high speed 4G/HSPA+ wide area wireless networks.
The Liquid Graphics touch screen, a key new feature powered by BlackBerry 7, delivers fast, smooth performance for highly responsive touch-based navigation, web browsing, pictures, video and graphics intensive games*. Offering up to 60 frames-per-second performance with instant UI action/response, Liquid Graphics gives customers a visually rich and immersive experience that's responsive to the touch. In addition, the smartphones feature brilliant displays with an eye- popping 287 dpi to deliver crisp, stunning visuals.
May 2, 2011The new platform also provides support for 4G networks; the 9900 supports HSPA+ connectivity, and the 9930 supports CDMA EV-DO Rev. A and HSPA+ global roaming on GSM/UMTS networks.
NFC
The BlackBerry Bold 9900 and 9930 smartphones include built-in support for NFC (Near Field Communications), a new technology that will enable many rich and exciting experiences. Through NFC, users will be able to, for example, pair the BlackBerry Bold to an accessory or read information such as a web link from smart tags by simply tapping their BlackBerry Bold to an NFC tag (eg. Smart Poster).
Augmented Reality
The BlackBerry Bold 9900 and 9930 smartphones feature a built-in compass (magnetometer) to support location-based services and augmented reality. APIs will allow third party developers to take advantage of the new functionality within their applications. The new smartphones will also include Wikitude, the leader in mobile augmented reality, which overlays contextual information on what the user sees through the smartphone's camera viewfinder.
HD Video
The new BlackBerry Bold 9900 and 9930 smartphones support up to 720p HD video recording and playback. Users can easily share their videos directly from the smartphone or sync videos, as well as music and photos, to their computer using Media Sync in the BlackBerry® Desktop Software.
BlackBerry 7
The BlackBerry 7 OS is designed to power the new performance-driven BlackBerry Bold platform. It provides an easier and faster user experience with improved browsing, voice- activated searches, the ability to manage personal content separately from corporate content, as well as additional personal and productivity apps out of the box.
The BlackBerry Browser has been significantly enhanced in BlackBerry 7. In addition to the general performance gains of Liquid Graphics, which helps deliver faster rendering and seamless panning and zooming, the BlackBerry 7 browser includes a new JIT (just in time) JavaScript compiler to improve the load time speed of web pages. The new browser also includes support for additional HTML5 elements, such as HTML5 Video.
Building upon the Universal Search feature introduced in BlackBerry 6, BlackBerry 7 expands the capability to include voice-activated search. This new capability makes it even easier and more convenient to search for content on the smartphone or web.
BlackBerry 7 also integrates BlackBerry® BalanceTM, which separates personal content from corporate content on the smartphone, giving users the freedom and flexibility to use the handset for personal email, Facebook®, Twitter®, multimedia, games and other apps while satisfying the very real need for corporate data to be highly secure and manageable. BlackBerry Balance works in conjunction with BlackBerry® Enterprise Server 5.0.3, which provides a number of unique IT policy controls such as wiping only corporate data from the handset or blocking work related content and apps from being copied or forwarded to personal contacts.
With BlackBerry 7 on the BlackBerry Bold 9900 and 9930 smartphones, users will also get the full version of Docs To Go® with all "premium" features enabled out-of-the-box so that users can easily work with Word, Excel and PowerPoint files directly on the smartphone. Docs To Go also includes a native PDF viewer.
Availability
The new BlackBerry Bold 9900 and 9930 smartphones are expected to be available from carriers around the world beginning this summer.
For additional information please visit www.blackberry.com/touchbold
APPENDIX
BlackBerry Bold 9900 and 9930 Specifications
• 115 x 66 x 10.5 mm, approximately 130 g • 2.8″ capacitive touch screen display – VGA (640×480), 287 dpi resolution • Ultra-easy QWERTY keyboard, optical trackpad • 1.2 GHz Processor, 768 MB RAM • 8 GB on-board memory, plus microSD slot supporting up to 32 GB cards • NFC technology • 5.0 MP camera, supports 720p HD video recording • Orientation Sensor (Accelerometer), Digital Compass (Magnetometer), Proximity Sensor • Built-in GPS / aGPS • Dual-Band Wi-Fi® – 802.11 b/g/n at 2.4 GHz and 802.11 a/n at 5 GHz • Bluetooth® 2.1+EDR support • Wireless Network support:
o 9900:Tri-BandHSPA+,Quad-BandGSM/EDGE o 9930:Dual-BandCDMA/EV-DORev.A,Dual-BandHSPA+,Quad-Band
GSM/EDGE • 1230 mAh removable, rechargeable battery
• BlackBerry 7 OS * Features OpenGL 2.0 support for developers.

As an Amazon Associate I earn from qualifying purchases.