RIM: No BBM'ing your BFF on iOS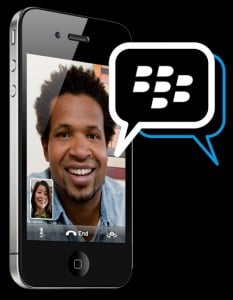 After recent rumors that Research in Motion would be porting its BlackBerry Messenger (BBM) messaging app to the iPhone, the BlackBerry-maker is denying that such a move will happen at this time. At present, RIM doesn't have plans to take BBM to the iOS platform so there will not be any cross-platform messaging.
BBM is one of the key unique features that BlackBerry users have come to love. As a messaging app, messages are delivered quickly and securely–much like an SMS or push email. There is also notifications for when messages are sent or read so you'll know if the recipient has opened your messages. Best of all, for text-happy teens who are in the BlackBerry circle, you can eschew a text messaging plan and just consume data with BBM.
Most recently, Research in Motion had announced that it was opening up BBM so BlackBerry developers can integrate BBM and make it a social feature in their own apps.
For now, iOS users who were wishfully hoping that BlackBerry would open up its best kept secret to the iPhone can look elsewhere.
Via: IntoMobile