RIM: "Playbook Redefines What a Tablet Should Do." What Is That Exactly?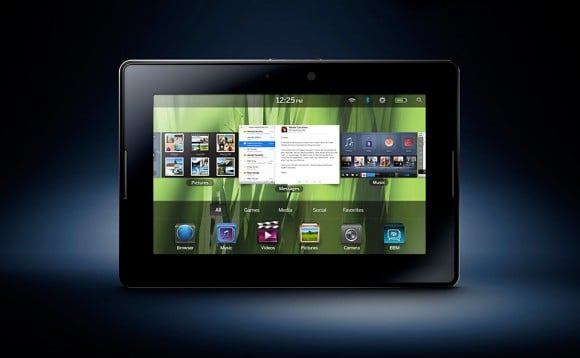 RIM honcho Jim Balsillie in speaking on a recent earnings call says that "I think the Playbook redefines what a tablet should do." He goes on to say that this is about better performance, Enterprise functionality (VPN, document viewing, and editing, etc…).
OK, all well and good. I'm not seeing the redefinition here, and I'd like to. Don't get me wrong, I'd love to see RIM bust out of the gate with a Playbook that takes the world by storm that excites both the business and consumer market. And it just might. That said, I'm not just not sure any new Tablet or Slate is going to redefine what a tablet/slate should be.
There's plenty of room for redefinition certainly, but I think where the new frontiers exist are more about users interact with their data and their computing needs than with changes within the form factor. What's that you say? The form factor is set and there is no room for innovation? Well, not exactly, but for the current and next wave yes. Face it, when you're trumpeting FLASH, cameras, ports, as the big differentiators, you're still talking yesterday and not tomorrow.
I'm not down on RIM here, like I said I want them to succeed with the Playbook. But RIM and all of those about to unleash new Tablets on the world (or promises of new Tablets) at CES 2011 are going to be showing us versions of what we already know now. Do they really have a choice? I think that answer is partially yes and no as the market is still very much in flux and trying to define itself. RIM's hope here is that its OS sets it apart from everyone else. That's a big gamble and one that I hope pays off, but in just a few weeks it will be time to put these devices in the hands of someone other than RIM folk and let the real world find out RIM has a chance or not. Taking that further, if RIM isn't ready by CES 2011 to put at least prototypes in the hands of journalists and bloggers, I wouldn't count on a March 2011 launch they way some are speculating. In fact, heading into CES 2011, which is already being billed as the show about Tablets, I'd say that if you read about Tablets from any maker under glass, in company reps hands only, or just being hinted at, that you're not looking at something that will be a real competitor in 2011.

As an Amazon Associate I earn from qualifying purchases.