RIM Sings a Torch Song: Blackberry Torch Announced for AT&T at $199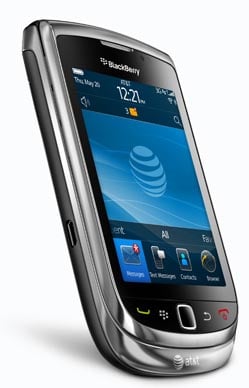 RIM had the tech world's eyeballs earlier today. Most were hoping for an announcement that would yield a new Blackberry device worth writing home about, and some were hoping we'd hear more about that rumored Blackberry Tablet. The latter didn't happen. Some of the jury is still out on the new phone. Called the Blackberry Torch 9800, RIM introduced a capacitive touch screen phone that also is a slider with the familiar keyboard that Blackberry users love to tap on. The Torch will debut on August 12 with AT&T at $199 with a two-year contract.
RIM seems to be following everybody else with its touch screen approach, and also with its approach to social networking. There's a Unified Social Feeds aggregator that pulls your Facebook, Twitter, etc.. feeds together. RIM is also touting a Wireless Music Sync feature that looks like it requires a desktop app to sync back and forth with. But what is making the big impression on me from reading coverage around the web is that RIM keeps stressing that even though the Torch is using the new Blackberry OS 6, it isn't leaving anybody behind as they attempt to move forward. Simply put that means if you've got a slew of Apps on your Blackberry you'll be able to take that investment with you. RIM is obviously making a play for developers as well. RIM is also talking consumer in a big way, in addition to its big share of big business and big government.
I'm not a BlackBerry user and never have been. RIM still holds a gigantic share of the market, and this is a big play to try and stay competitive in the smart/super phone category and hang on to more of that share. (At least everywhere but the United Arab Republic.) So, the question being asked all over today, is did RIM do enough? I don't have any metrics to compare anything to, one way or the other, but I'm guessing those who need the Blackberry experience for corporate or other work related reasons will be please. As for the rest of the world? Like I said, that part of the jury is still out.

As an Amazon Associate I earn from qualifying purchases.