RIM Still Working On BlackBerry 10, Releases Video To Court Developers
RIM's BlackBerry 10 is still months away, but the Waterloo-based company is still confident that its new platform will make a difference.
According to Engadget RIM CEO Thurston Heins took the stage today at BlackBerry Jam Americas and gave only a few details about the upcoming BlackBerry 10. Heins said the company is working with unspecified carriers to make sure BB10 lands in early 2013. Those carrier partners will begin testing devices in October.
After making his vague statements of excitement and carrier support, Heins moved on to a demo where other RIM employees showed of the features of BlackBerry 10. The demo included features like two separate user profiles: one for home, and one for work. Other features include the new BlackBerry Messenger, and the live tiles UI.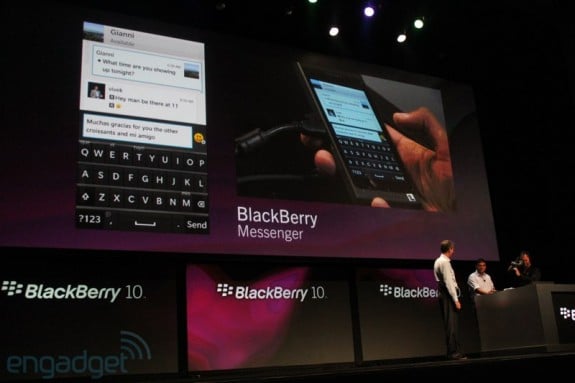 RIM also took time to court developers, asking them to create new apps for the platform. The company did this in two ways. First, RIM highlighted the big developers that are working on the platform. RIM dropped names like Facebook, Gameloft, Conde Nast, Twitter, Box, Foursquare, and LinkedIn as developers who will have BlackBerry 10 apps.
Then, it debuted a music video that parodies the REO Speedwagon song "Keep On Loving You." Keeping in the tradition of BlackBerry video ads, the music video is hilariously bad featuring lines like "We'll have BlackBerry 10, both in full touch and QWERTY editions" and "our updated SDK is really cool."
https://www.youtube.com/watch?v=WlsahuZ_4oM&feature=youtu.be
Terrible video aside, BlackBerry 10 does look pretty interesting, even if it's launching a bit late. RIM gave hands-on previews to Engadget, The Verge, and All Things D who all run through the features on video.
We're not sure how well users will respond to RIM's newest attempt to regain market share. We do know that BB10 is interesting in the same way that Windows Phone 8 and WebOS are interesting: it performs the same basic functions as iOS and Android with a few extra features and a completely different UI.

As an Amazon Associate I earn from qualifying purchases.