RIM to Stop App Sideloading on BlackBerry PlayBook to Curb Piracy
In an effort to curtail piracy of apps, Research in Motion will roll out a new software update at some point in the future that would remove the ability for users to side load applications, though that capability will remain in some form for developers for the platform. Sideloading is a process that allows users to install or load applications unofficially from sources other than from the official app store on a device, in this case from sources outside of the BlackBerry App World storefront.
According to RIM VP of developer relations Alec Saunder on Twitter, RIM is still working on a solution that would allow developers to continue to be able to side load apps without having to go through the official App World channel. This way, it would be easier for developers to test applications for compatibility with the latest and prior versions of the tablet operating system as well as inter-operability with other apps, for example.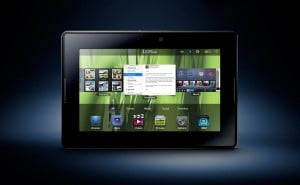 Saunder also says that he wants to prevent the same rampant piracy problem that is playing the rival Android platform. Though RIM competes with other hardware manufactures who license the Android OS, through a recent software update, the company is also allowing its PlayBook tablet owners to load and run select Android apps that are made compatible with the PlayBook hardware. As such, there have been hacks that allow users to easily convert Android apps and pirate them to run on the PlayBook.
CrackBerry reports that at this time, it appears that RIM wants to be protecting developers, and this is a good thing. Stopping piracy and attending to the needs of developers may help get more developers to build valuable apps for RIM.
Piracy has long been an issue with Android and there have been instances in the past where developers often refuse to build or port their apps from other platforms to the Android OS because of piracy concerns. When developers try to circumvent piracy by turning to free ad-supported apps, users often get taxed with decreased battery life as a result.
The second reason that RIM may be ending sideloading for consumers is to make the BlackBerry platform a more secure environment. As RIM is turning its focus back to the enterprise market, security is one area that has been a strength of the company.

As an Amazon Associate I earn from qualifying purchases.