RIM Unveiling New BlackBerry 7 Devices Tomorrow?
We still have absolutely no idea when the very official BlackBerry Bold 9900/9930 will be coming out but it appears that that's not going to stop RIM from announcing new handsets as a tweet from the company's official account has indicated that that very thing will happen at some point tomorrow.  So, what might get announced once July 25th rolls around? Well, there are a couple of phones that  have leaked out in the past and in our opinion, those are the front runners for launch tomorrow. First, the BlackBerry Torch 9860 & 9850. This device has been leaked more times than we can count and it would make sense that RIM would finally make it official tomorrow. Stranger things have happened but this is a good horse to bet on.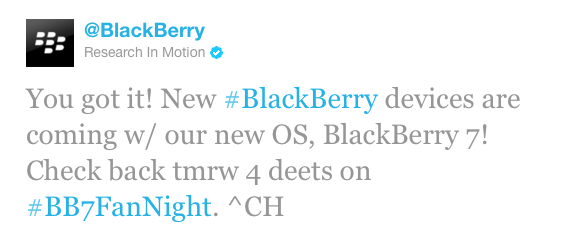 Another device is the BlackBerry Torch 9810 aka BlackBerry Torch 2 which we've also seen show up in leaks before today. We think that those are the announcements that are most likely to take place but it's possible that RIM might have a surprise or two for us.
As for the BlackBerry Bold 9900/9930, we might also see a release date or two emerge from tomorrow's announcements if we're lucky. We know that the Bold 9900 is landing at T-Mobile at the very least and we also now know that the Bold 9930 is probably heading to Verizon. I know many of you out there want specific release dates so lets hope RIM finally obliges.
Via: CrackBerry

As an Amazon Associate I earn from qualifying purchases.