RIM Unveils BlackBerry PlayBook Mini Keyboard
If you own a BlackBerry PlayBook and you've been waiting for an official physical keyboard solution to pair with your tablet that's now running BlackBerry PlayBook OS 2.0, your lucky day has finally arrived. Sadly, it looks like you're going to have to use all of your change from your broken piggy bank to scoop one up. In fact, the accessory almost costs as much as the tablet itself.
Right now, RIM is offering up the 16GB model of its BlackBerry PlayBook tablet for a mere $199.
The Mini Keyboard?
Oh, it's going to run you a cool $119. Probably not the price that those interested were looking for but that's how much RIM's charging.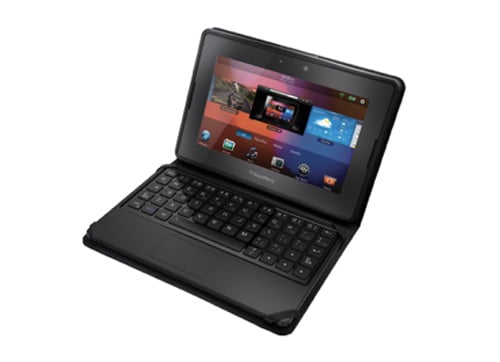 The device is currently available for pre-order and the company expects to start shipping it later on this month on March 23rd.
RIM's BlackBerry PlayBook Mini Keyboard, which you can see in the video below, boasts a keyboard along with a mini-trackpad.
https://www.youtube.com/watch?feature=player_embedded&v=P76xH0tSOg0
RIM also says that the device will stay charged for up to 30 days on a full charge. That's right, this isn't a dock. Instead, it operates via Bluetooth.
It also comes with a convertible case that will allow you to store both the keyboard and the BlackBerry PlayBook for easy travel. It's also encrypted which will protect you from nefarious persons who may wish to steal the information that you input using the device.
For those that are interested, and are currently sitting on a mountain of excess gold bullion, you can find the Mini Keyboard for the PlayBook available at RIM's BlackBerry Store.

This article may contain affiliate links. Click here for more details.