RIM Working on BlackBerry TV?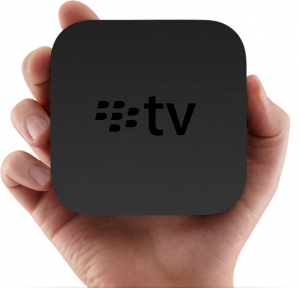 In an effort to compete with Google TV and Apple TV, Research in Motion may be prepping its own media box to get Internet content onto your large screen either from the cloud or via your BlackBerry smartphone or tablet. Unlike Google's and Apple's solution, this BlackBerry Media Box is less targeted at consumers, and may be more enterprise-focused, though the source to n4bb notes that it would be built on top of QNX software–the same software that's powering the BlackBerry PlayBook tablet–as well as come with third-party service integration.
The device may retain some of the features of the BlackBerry Presenter, which is an accessory that allows BlackBerry smartphone owners to send their PowerPoint presentations wirelessly to the dongle, which connects to a projector to output their slides. The BlackBerry Media Box is siad to be 'based on similar hardware as the BlackBerry Playbook,' perhaps alluding to its ARM-powered chipset like that found on the Apple TV.
Right now not much information is available. However, as neither really Apple nor Google have conquered the living room, it's unclear if RIM can do the task.
It'd be nice to have a box to augment the functionality of the PlayBook tablet. Though RIM allows the PlayBook to be mirrored onto an HDTV via an HDMI cable, so far there isn't a wireless way to do so. A PlayBook with Media Box can potentially unleash content on the PlayBook wirelessly to a TV for ease of use, gaming, and for presentations.

As an Amazon Associate I earn from qualifying purchases.