RIM's 10-Inch BlackBerry PlayBook Shows Up in Vietnam
Vietnamese site Tinhte has come through again, this time with leaked images of Research in Motion's unannounced 10-inch BlackBerry PlayBook tablet. In the past, it was said that RIM had cancelled plans and developments for a 10-inch variant of its announced and launched 7-inch slate, which runs the BlackBerry PlayBook OS designed on architecture from QNX.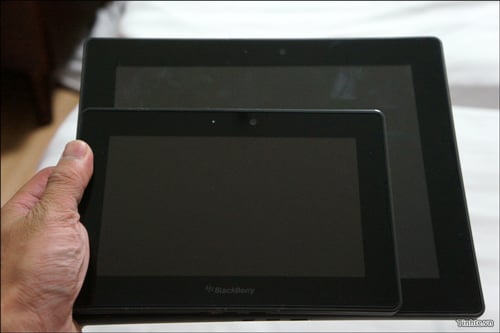 Photos of the 10-inch slate were re-posted on Electronista.
Though RIM may have cancelled the launch of the 10-inch model, the images obtained by Tinhte shows the 10-inch model fully assembled and dissembled with its internal components. Design-wise, it appears that the 10-inch model follows the same design scheme as RIM's 7-inch tablet.
The 7-inch PlayBook had launched at a tumultuous time for non-iPad tablets. Shortly after the 7-inch tablet launched, HP had announced that it would abort its webOS efforts and had a fire sale to discount the TouchPad tablet. Then, Amazon had entered the arena with a $200 Kindle Fire tablet, placing pricing pressure on the PlayBook. Despite its strong features, the PlayBook was not able to attract developers to create apps for the PlayBook OS ecosystem, forcing RIM to create an emulator to allow Android apps to run on its PlayBook hardware.
More recently, a 4G-enabled PlayBook has begun to surface in leaks.