RIM's Latest PlayBook Promotion Favors Sales of 64 GB Model
Research in Motion is now offering a sale on its PlayBook tablet, pricing the 16, 32, and 64 GB models at $299 each with shipping included. As the BlackBerry-maker has been struggling to move its most inexpensive 16 GB models at regular retail price, my guess is that there is now an excess of 32 and 64 GB capacity PlayBook models. As RIM's promotion sets pricing equally for all capacities, consumers would be more gravitated to pick up a tablet with more storage to favor the 32 and 64 GB models.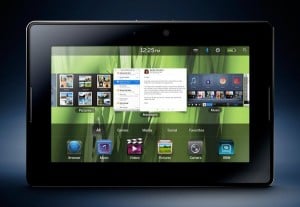 Past PlayBook promotions have seen retailers and RIM pricing the 16 GB model as low as $199.99.
The latest promotion will run through February 4. Customers interested in the sale could visit RIM's online web store.