Ring Stick Up Cam: Wireless Security For Your Home
The Ring Stick Up Cam is a $199 home security camera that mounts anywhere on the outside of your house or garage, without the need to run wires or hire a professional and it delivers live video monitoring in a sleek weather resistant package.
Like the Ring Cam, the Stick Up Cam is simple to install and it comes with all the tools and screws you need to install on your house.
This is a weather resistant camera, so you don't need to buy cases and third-party mounts to use this camera outside. This is a truly wireless home security camera. While many WiFi cameras still require power, the Ring Stick Up Cam uses a built-in battery that lasts for up to a year. Based on our use of the Ring Video Doorbell, the battery should last at least six months and when it runs out you recharge with Micro USB.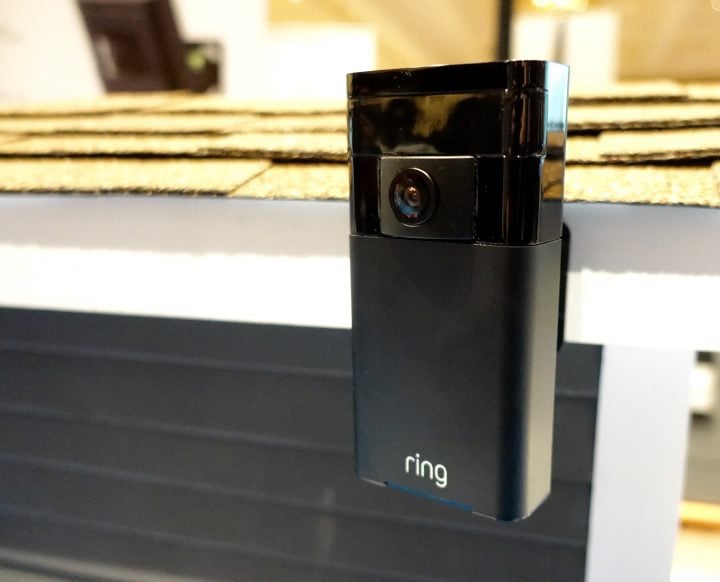 The Ring Stick Up Cam only records when there is motion, so you don't need to sift through hours of nothing happening to see something of interest. You can also set customized zones, so you only get notifications that you care about. Infrared LEDS capture motion and activity at night. Cloud Recording allows you to save six months of video for $3 a month or $30 a year.
Unlike many competing home security products that require owners use a half-finished app, Ring is a well designed app that we loved using in our Ring Video Doorbell review. With Ring, users also get the benefit of using a well-funded company that won't disappear overnight. Richard Branson invested 28 million in the company after seeing the benefit that the home security device offers.
Unlike many smart home products we saw at CES 2016, the Ring Stick Up Cam is not a gadget in search of a problem. The company's mission is to keep communities safer and the Stick Up Cam solves a real problem. Many burglars will test the doorbell and walk around the house before making a move.
With the Ring Stick Up Cam users can talk to someone through two-way chat to tell the UPS delivery driver where to put a package or to tell a shady looking character to beat it.
There are security screws to prevent someone from removing the battery, but if someone pulls the camera off your wall and runs with it, the company will replace it under a lifetime warranty.
You can connect an unlimited number of devices to your Ring account so you can use this with a Ring Video Doorbell or you can use it as a standalone product. It's possible to set up several to monitor your house and you can also grant access to an unlimited number of accounts on a per camera basis.
The Ring Stick Up Cam is $199 and is available for pre-order today, shipping in early February.