Ring Video Doorbell Review: Editors' Choice
The Ring Video Doorbell is an easy way to take the first step towards turning any house into a smart home. The $199 device is worth every penny and ultimately more useful than many of the other smart home products I've tried.  Its ease of installation, utility and relative value earn the Ring Video Doorbell a Gotta Be Mobile Editors' Choice Award.
The Ring Video Doorbell is a self-contained gadget that replaces any standard doorbell. It connects to the Internet over a home's Wi-Fi network and sends alerts to residents' smartphones whenever someone is at the door. With a couple of taps, the homeowner can see a live video feed of who's at the front door and have a conversation over the device's built-in speaker and microphone.
The Ring Video Doorbell is available at Best Buy, Amazon.com and direct from the manufacturer at Ring.com.
I installed several smart home products my home as part of an extensive remodel. My door locks, window blinds, alarm system and lightbulbs are connected to the Internet. A pair of Nest thermostats control the furnaces, an array of Dropcams keep an eye on the place and there's even an app for making sure the bathroom tile isn't too cold in the morning. The whole house is wired up and there's even a wireless Gigabit-Internet dish up on the roof. But guess which smart home product I've spent the most time talking about since I moved into the place two months ago? That's right…my doorbell.
Spending $199 on a doorbell might sound excessive, but I've found it to be an excellent value. Smart home products are expensive in general and often don't provide a lot of utility for the money. A $199 doorbell is expensive in relative to the $9 doorbell you can buy at the hardware store, but cheap compared outfitting your house with Philips Hue lightbulbs ($69 each) or Lutron automatic blinds (about $600 each).  Unlike my Dropcams, the Ring Video Doorbell is actively used each and every day.
It took about 10 minutes to install the Ring Video Doorbell by my front door, download the app, connect it to my network and get it all working together. The Ring Video Doorbell comes with mounting hardware for installing the device. The device can be connected to your old doorbell's wires for continuous operation or it can rely on an included rechargeable battery, which lasts for several months on a single charge.  Anyone that's comfortable putting together Ikea furniture should be able to install this doorbell. The company provides installation east-to-follow videos for those nervous about hooking up a device themselves or who have never done it before.
Our front door is  pretty chaotic since we live near a lot of family and we're still wrapping up our remodel. My wife and I do the bulk of our shopping online and through delivery services to minimize time spent running errands. That means construction suppliers, contractors, house cleaners, FedEx, AmazonFresh, Google Express, babysitters, pizza delivery drivers, family and friends all ring our smart doorbell and connect with one of us within a few seconds. If we're home and expecting someone, we typically just open the door without launching the app and entering into a conversation.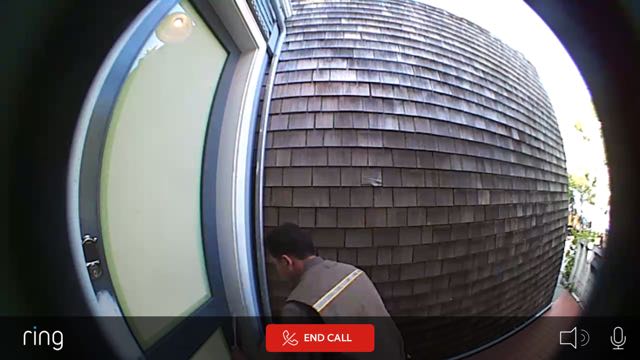 The real magic happens when neither my wife or I are home and someone rings the doorbell.  We're able to see exactly who's at the front door and manage whatever situation there may be. The above is what the Ring iPhone app looks like whenever someone pushes the button on the device. In this case, it was a UPS delivery guy that came by when we weren't home. I told him to leave the package at my front door.
The Ring Video Doorbell works even if I'm on the other side of the world. While I was traveling on a bus in Bejing recently, my dad stopped by my house to fix a couple of things and move my SUV so I didn't get a ticket.  As you can see in the video, my father-in-law actually answered the door before I could answer it, but my dad came back out to have a brief conversation.
https://www.youtube.com/watch?v=83wSkP0XK84
It can take several seconds to get an alert, unlock my iPhone, launch the app, hit 'accept' to begin the call and greet whomever's at my front door.  I wish Ring would abbreviate the process of answering a call – the app should assume that you want to accept a call if you're bothering to tap on an alert to launch the app. Another occasional hiccup that I run into is that the Ring app doesn't work properly if I'm on a phone call when someone rings, since the phone call is already using the iPhone's audio capabilities.
Sometimes whomever is ringing my doorbell requires a little more attention. For example, I wasn't home when FedEx attempted to deliver my new MacBook. I asked the driver to leave the computer on my doorstep, but she told me that Apple required a signature. I asked her to hold on for a few seconds while I sent a text to my next door neighbor asking if he could accept a package for me. Once I confirmed he was home, I asked the driver to leave the package next door. She was happy that she didn't have to reattempt the delivery the next day and I was happy since I could get my computer right away. There hasn't been a failed delivery attempt at my house in the two months since setting up the Ring Video Doorbell.
The Ring Video Doorbell has a couple of security features that some homeowners may like. A built-in motion sensor can trigger app alerts and record video to Ring's servers.  I disabled the motion alerts because they went off to often for my taste. In some cases, my iPhone 6 would buzz when someone walked up to our front door and again when they actually rang the doorbell. I really didn't need an alert every time the postman delivered mail. It was also really annoying to receive alerts each and every time someone, including myself, entered or exited the house.
An optional recording service saves videos every time someone rings the doorbell or triggers one of the optional motion alerts. The service is reasonably priced at $3 per month or $30 per year. The saved videos can be shared with neighbors and police in case of burglaries, package thefts or any other crimes captured on camera.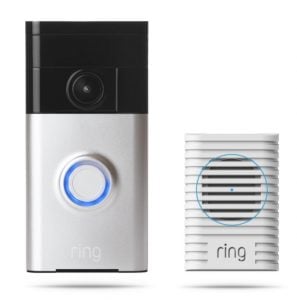 We have run into issues when relatives or babysitters have missed people at the front door since the Ring Video Doorbell's built-in chime isn't loud enough to hear from inside every time.  Ring is getting ready to release Chime, an indoor speaker that sounds each time someone rings the doorbell, just like traditional doorbells. Though the Ring Video Doorbell can be wired to your old wired doorbell chime, the Ring Chime is a lot smarter since it works wirelessly and you can add as many of them to your home as necessary.
The Ring Video Doorbell is built to survive common hazards. It has a pair of anti-theft screws on the bottom and the manufacturer promises to replace any stolen units. It's also rated to withstand bad weather and I haven't had any problems with our unit in the two months that it's been mounted by my front door.