ritePen 3.5 is Out and it's Awesome!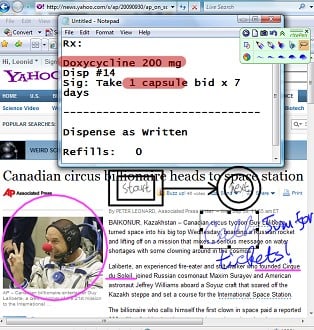 ritePen, called the "killer tablet app" by, well, me, now offers a truckload of new functionality in version 3.5. On top of excellent handwriting recognition and pen macros enabling limitless handwritten shortcuts, ritePen 3.5 offers advanced markup tools that allow users to take screenshots, mark them up with a variety of pens and highlighters, and save them to either the clipboard or Evernote.
I've been testing the beta version for several weeks, and I believe even more than before that it is the killer app for tablets and pen input. Need to see it to believe it? Check out their video walkthrough.
New features of ritePen 3.5 include:
– Support for Windows 7
– Advanced markup and instant note-taking mode with full ink editing, clipping, and integration with Evernote
– Automatic perfection of freehand shapes and charts (shape recognition)
– Improved writing system with much smoother full-screen ink collection
– New types of ink commands
– Enhanced correction interface (WordMenu)
– Improved Citrix and RDP compatibility
– Support for Dutch handwriting recognition
– Customizable Punctuation Pane
– and much more…
I've tested the beta on XP, Vista, and 7 with fantastic results on both Windows 7 and XP (not so much on Vista though, some sort of installation problem, I think). The new markup functionality has made all my other screenshot tools obsolete. It allows me to go wild with ink markup (pressure senstive on my Wacom digitizers) or precise with straight highlighting and clean shapes (though I still prefer wild ink markup). Screenshots can be sent to the clipboard for sticking in emails, etc., or sent to Evernote, making for an unbeatable note-taking combo. One warning: it won't work with the 3.5 beta of Evernote, presumably because the beta doesn't use the standard Evernote program location, but my testing with the current version was smooth.
Update: I've been informed the Evernote 3.5 beta version 3 should fix this problem, so I'm experiencing a specific problem. Oh, and you'll notice the ritePen markup tools are the same as those in Evernote. Bonus points to them for that added bit of integration. Update 2: Problem seems to have been in the ritePen beta. Just installed the final release, and it's sending clips to Evernote 3.5 just fine.
ritePen 3.5 upgrades the advanced functionality in 3.1, offering advanced pen macros to create ink versions of keyboard shortcuts, such as writing and circling "f" to perform Ctrl+f. More creatively, I also use it to turn off the screen, pick shutdown options, copy file names, and easily enter my contact information in new web services. Update: 3.5 offers a new "RunMacro" option to insert app/shortcut/bookmark launching macros into text entry macros. I'm going to need to get into that.
3.1 Pro users can upgrade for free. Update: 3.1 basic users get the free upgrade too! Cost to purchase is $39.95. It's also pre-loaded on the G-STYLE/GIGABYTE TouchNote T1028 Netbooks running Windows 7 and XP. For me, the time saved with macro shortcuts and easy screen markup is worth every dime.

As an Amazon Associate I earn from qualifying purchases.