ritePen 4.0 adds fantastic touch features, complements its mighty pen power
Hardcore fans and beta testers already know, but now it's official: ritePen 4.0 is released, and it's packing a bevy of multi-touch enhancements that complement its powerful pen features. You can now enter and edit text, launch apps, open websites, annotate screen captures, and do so much more using pen, finger, or mouse. Any way you want to handwrite on your computer, ritePen 4.0 is ready for it.
Okay, let's take it from the top: ritePen's core functionality is that of handwriting recognition, customizable with your own lexicons and special punctuation. Write anywhere on the screen and your words are turned into text in the text-entry field of whatever app you have open. Need to enter text in a web site? Just start writing. Built on top of that are ink macros that are shortcuts triggered by writing a word then circling it. Have a standard chunk of text you need to enter? Scribble and circle one word to make it appear. Want to launch a URL or app with one word? You can do that too. In addition to all that, ritePen is a screen grabbing machine that lets you select any section of the screen, annotate and highlight with ink and shapes, and save them to clipboard or Evernote. For more details, check out the ritePen website and their video demo (clip below).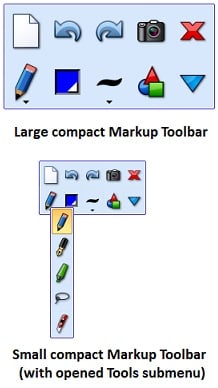 All that was possible in ritePen 3.5. The new 4.0 version retains those features and adds the following:
Write using a finger on a multi-touch screen.
Toggle ritePen on and off with a two-finger tap.
One-finger control and two-finger sweeps to trigger commands in markup mode.
Resize WordMenu correction window using multi-touch gesture for quick corrections.
Import/Export of ink commands.
Use multi-touch gestures for editing of and manipulations with handwritten notes.
Clips saved to Evernote are automatically titled "ritePen Screen Clip" with date and time. (Editable once you get into Evernote.)
Context aware recognition for applications and form fields.
In addition to the built-in Dutch, English, French, German, Italian, Portuguese, Russian and Spanish handwriting recognition, it also works with any language supported in Windows 7 and Vista Recognition Pack. (Requires the tablet functionality in premium versions of the OS.)
Customizable floating toolbars in different sizes and orientations, with custom button sets, hide/float feature, optimized for finger writing via auto-resizing.
I only had a short window to try out the final beta of ritePen 4.0 on the Fujitsu Lifebook T900 I was evaluating, but I was very impressed with the touch features during that time. Because I do so much with the pen (ink, text entry, navigation, etc.), the ability to toggle ritePen on and off with a two-finger tap anywhere proved very useful. Not surprisingly, writing with finger using ritePen looked about as good as writing with finger anywhere else. Recognition was as good as could be expected given how unrecognizable my one-finger writing style is.
Aside from the touch input, which I'd love more if I had a pen+touch tablet, I'm so glad the toolbar is finally customizable and can be vertically oriented. I've been wanting this for almost two years, and it provides everything I wanted: ritePen toggle button, screengrab button, and punctuation panel button. The only thing missing is a scrolling area, which is no longer necessary with pen+touch input.
The only problem I have experienced involves my vast list of ink macros – 396 at its peak – and it seems to be a problem unique to me. At some point, my giant list proved too much for ritePen 4.0 to handle and capped the number of active macros at 250. Strangely, stripping my list down to 268 seems have fixed it even though it's still above 250. I've already been in contact with Leo at ritePen about this and it's on the fix list, but I strongly suspect no one else is affected by this glitch. And honestly, my full list is loaded with redundancies anyway.
If you want to try it out on your Windows-based Tablet PC, there's a 30-day trial. Once you fall in love with it, it's $39.95. Upgrading from 3.1 or 3.5 is $14.95. I can't stress enough how much ritePen has enhanced my tablet experience since version 3.0, and it's only gotten better since then. Check it out!
https://www.youtube.com/watch?v=OdAP9FvpeMo

As an Amazon Associate I earn from qualifying purchases.