RoBe:Do Netbook Powered Robots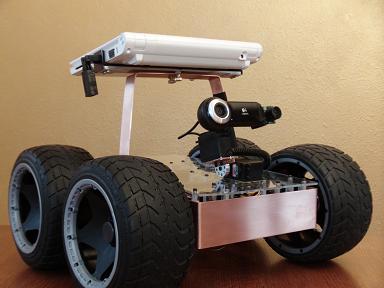 Ever want to build your own robot, but lack the engineering expertise to build one from scratch? The guys from RoBe:Do make building an army of robots easy by offering up the Coppa ($1,649) and Silvio ($1,449). Robot buyers just need to add a netbook and a little expertise in at least one programming language.
You can add a bunch of goodies to the robots, including a USB missile launcher and actuators.

Each robot comes with
* Input/output controller with 24 ports (8 analog inputs; 8 digital inputs,
8 digital outputs) & an integrated, powered 6-port USB hub
* Servo controller with eight R/C servo capacity
* Pan/Tilt LogiTech Autofocus USB Webcam and sonar distance sensor package.
* Sonar sensor detects objects from 6″ to 254″ with 1″ resolution
* Servo-pannable front infrared distance sensor (4″ to 30″)
* Left, front infrared distance sensor (8″ to 60″)
* Right, front infrared distance sensor (8″ to 60″)
* Three Infrared Sensor Adapter Boards
* Computer to USB hub cable
* USB hub to Motor controller cable
* USB hub to Servo controller cable
* Wooden robot stand
* Robot stand detection sensor
* Rechargeable NiMH 12V battery pack & charger
* Battery voltage sensor
* Advanced high-current motor controller
* Four powerful 70 RPM * gearhead motors
* Sturdy 6.7″ tires
via SlashGear

This article may contain affiliate links. Click here for more details.