Rock Band for iOS and Android Will Stop Working on May 31
At the end of May, EA will shut down Rock Band for iPhone, Android, WebOS, and feature phones.
According to EA's website, EA will shut down online services for Rock Band on May 28, though users are now seeing push notifications that say the game will no longer work after May 31.
Oddly, EA has no problem selling Rock Band to iOS users until it stops working. The game is still in the iOS App Store for $4.99. The app hasn't been updated since November 2010, and there's no indication on its page that it will stop working at the end of the month. Any user can stumble upon the game and buy it before they find out they only have about a month to play it.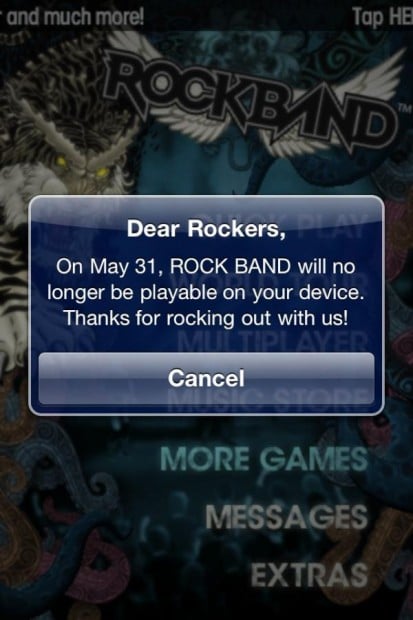 In the past, EA has shut down online services for many of its console games, taking away the multiplayer aspect of the games. The difference is players can still play those games without going online. Anybody can put an old copy of Madden 10 in an Xbox 360 and play it without going online. The same will likely be true for Rock Band on the 360 whenever EA shuts down those servers.
Harmonix, the studio behind Rock Band doesn't even know why its game will stop working in a few weeks. A Harmonix representative told Kotaku, "EA Mobile is responsible for the publishing and hosting of Rock Band on iOS. We're reaching out to them to better understand what's happening with the app."
Earlier, EA pulled the old version of Tetris for iPad, and replaced it with a new game of the same name. Users that wanted a Retina Display version of the puzzle game needed to buy the new version from EA.
EA actually pulled a similar move with Rock Band in 2010. A newer version of the game, Rock Band Reloaded, is the only version to support Retina Display graphics on the iPhone and iPod touch. The app was never updated after its initial December 2010 release, but it isn't included in EA's list of games to shut down.
We're still confused as to why we can't play the original Rock Band after EA shuts down the online service, but at least there's a version that should still work. If EA is able to stop games from working at all it makes us think twice about buying more apps from the developer.