Rocket League Xbox One Release Confirmed
Since earlier this year, gamers and owners of Sony's PS4 entertainment console have been the only people able to experience Rocket League. Last night, video game developer Psyonix confirmed what who own Microsoft's Xbox One entertainment console hoped it would. There is a Rocket League Xbox One release date coming relatively soon.
Psyonix made the announcement late yesterday during The Game Awards show. The announcement trailer as well as the entire show streamed live to thousands through their video game consoles and services like PlayStation Network, Xbox Live and Twitch. Rocket League bills itself as a futuristic sport. It's soccer, but it's played using hot-rods instead of players being on foot. It launched on the PS4 to critical acclaim and big sales last year. The PC version of the game is purchasable only through digital gaming service Steam.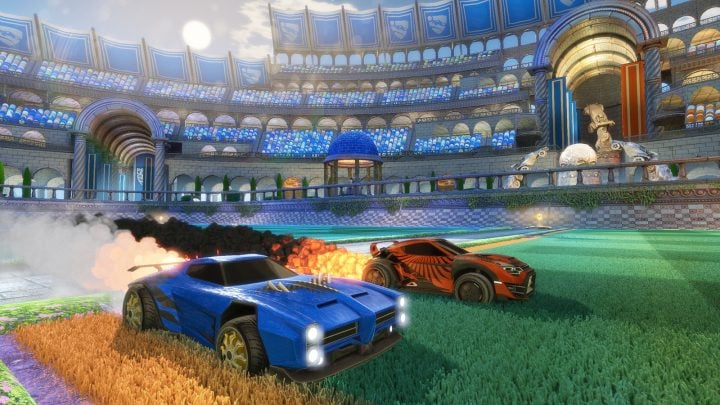 The trailer shown during The Game Awards doesn't reveal much beyond showcasing some of the gameplay and revealing that the official Rocket League Xbox One release date will come sometime this February. A press release sent to Gotta Be Mobile goes into more detail.
Read: 11 Rocket League Tips & Tricks
Rocket League on Xbox One will have the same multiplayer elements and style as the PS4 and Windows PC versions, but it seems Microsoft is working directly with Psyonix to provide buyers with some extras. "The Xbox One version of Rocket League will contain all the same features, upgrades and content found in the PlayStation 4 and Steam versions, plus several significant additions." Buyers on Microsoft's console will get some exclusive vehicles. These vehicles – or Battle-Cars as the game calls them – will have a Halo and Gears of War theme. The Halo vehicle is based on the Warthog. The Gears of War vehicle is based on the Armadillo. Both vehicles are exclusive to the Xbox One version of the game.
We don't yet know the exact Rocket League release date for Xbox One, but we do know what will be included and how much the it'll cost. Psyonix commits to selling Rocket League for Xbox One for $19.99 in this week's press release. It also confirms that it won't force gamers on Microsoft's platforms to purchase any of the add-on content that's arrived for the game since its release. Supersonic Fury, Revenge of the Battle-Cars and Chaos Run are all add-on packs for the basic Rocket League experience. They'll all be included in the Xbox One version. Psyonix won't include the Back to the Future content pack, unfortunately. Xbox One owners will have to purchase that content separately the day the game becomes available.
Replays, customizable controls, all game variants, 4 player split screen play, 8 player multiplayer, ranked matches, private matches, and 7 maps will fill out the game. There'll be 16 different cars to choose from in all; and 400 different options for changing the way a car looks.
All told, this is the Rocket League Xbox One release that gamers hoped for.
Rocket League remains enormously popular on the PS4. In fact, it's one of the games that many point to whenever they're discussing the success of small studios against corporate game makers that tend to not experiment as much as some think they should. With a small list of exclusive games this fall and holiday shopping season, Rocket League certainly belonged on any list of reasons to get a PS4 over an Xbox One. Gotta Be Mobile included Rocket League in its list of 20 Best PS4 Games to Buy.
It wasn't a coincidence that the Rocket League Xbox One release date was announced at The Game Awards. The game won two awards at the show, one for Best Independent Game and another for Best Sports/Racing Game.

As an Amazon Associate I earn from qualifying purchases.