Rocket League Xbox One Release Date Arrives
Gamers with Microsoft's Xbox One entertainment console have good reason to rejoice this morning. Rocket League, a game that began its life as only available on Sony's PS4 video game console and Windows PCs, has finally come to Microsoft's living room console with extras in tow. The Rocket League Xbox One release date has arrived.
Rocket League Xbox One officially arrived for pre-order in the Xbox Store last week, but it wasn't until this week that users could actually play the game. Rocket League gets compared a lot to soccer; it features players zooming round stadiums in customized cars all trying to school on the opposing team's goal. Microsoft and the game's developer, Psyonix, confirmed in late December that Xbox One owners would get their hands on the game with new content in tow.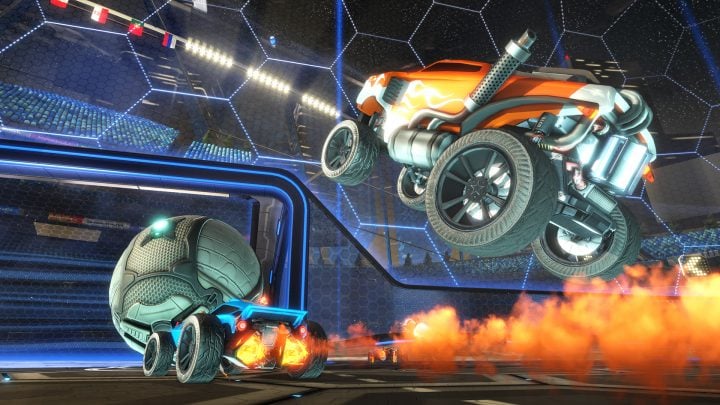 Exclusive games are like currency in the video game industry. Microsoft, Nintendo and Sony use exclusive titles to lure users into buying their system over the consoles of others.
Some gamers reported being able to play Rocket League Xbox One early last night, despite today being the official launch date. The base game costs $19.99. Users will need to make sure that they have at least 3GB of storage clear on their console's internal hard drive or any external hard drive that they have their console loading games to. If purchased through the Xbox Store's website or SmartGlass app, the game automatically downloads to consoles with Always Connected Mode enabled.
Read: 5 PC, Xbox One & Ps4 Games & Updates in February
Everything that's included in the Rocket League Game of the Year Edition is included with Rocket League on Xbox One. Supersonic Fury, Revenge of the Battle-Cars and Chaos Run come with the game download automatically. All three of these of these content packs adds new vehicles, customization options and stadiums.
Previously, they were available separately on Steam and the PlayStation Store. Besides those content packs, buyers also get 16 different cars besides those included in the add-on content and the base game. Microsoft and Psyonix are adding another two on top of those, one inspired by the Warthog from its Halo series of games and another that takes inspiration from the Armadillo in the Gears of war series.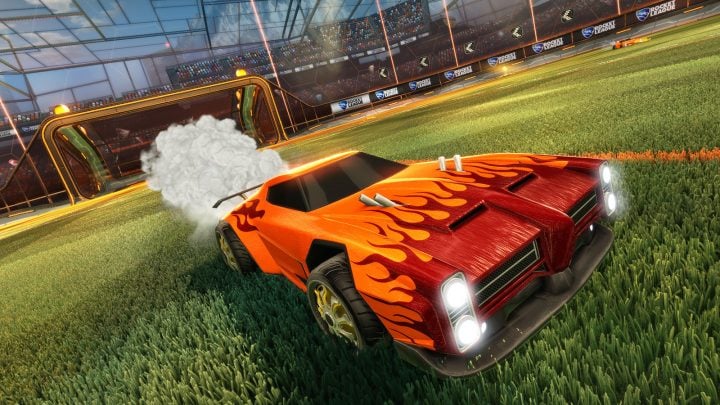 Arenas for the game include DFH Stadium, Beckwith Park, Mannfield, Urban Station, Utopia Coliseum and Wasteland, all of which come in standard configurations and themed variants that make them a bit more interesting.
Though the base purchase does include a lot of content, it doesn't include every piece of content that players on other platforms have gotten their hands on. The Back to the Future Add-on for Rocket League isn't included with the base purchase of the game. That being said it is available to Xbox One owners as a separate purchase. The Rocket League Back to the Future Car costs $1.99 separate from the rest of the game. It's the only add-on content available for the game on Xbox right now.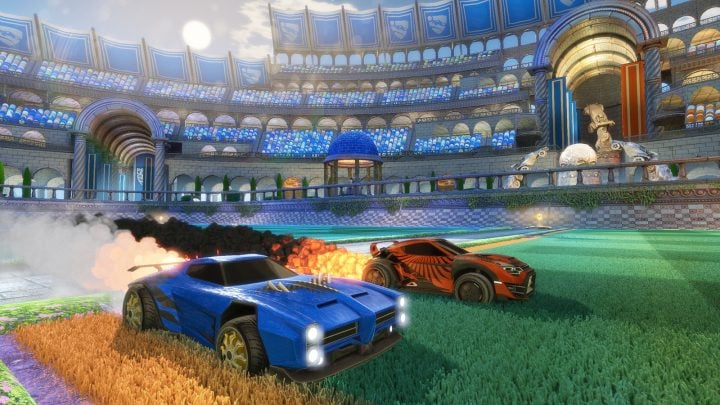 Read: 11 Rocket League Tips & Tricks
All of the game's modes, single player and multiplayer are intact from other platforms. Up to four different people can play on a single Xbox One. Rocket League Xbox One is able to pull this off by dividing available screen real estate. Online, up to eight different people can play the game together over Xbox Live in ranked and unranked matches. Players can close their online matches to Xbox Live by creating a private match too. Teams range from one on one play to up to four players on each team.
There don't seem to be any big Rocket League Xbox One problems harming gameplay this morning.

This article may contain affiliate links. Click here for more details.