Rocket League Xbox One Release Teased
Owners of Microsoft's Xbox One entertainment console can expect one of the PS4's exclusives to be available on their console soon. That is if comments alluding to a Rocket League Xbox One release date announcement are an accurate indication of studio Psyonix's future plans.
Psyonix director Dave Hagewood made comments in an interview with Red Bull this week that heavily indicate the studio is ready to reveal a Rocket League Xbox One release date. Rocket League launched this year to astonishing sales, beating out games from bigger developers on its way to selling 5 million copies. In the game, users pretty much play soccer with hot rods in an arena. Rocket League is only available to owners of a Sony PS4 or a Windows PC. That's because Sony and Psyonix signed a partnership agreement that kept the game from coming to other consoles.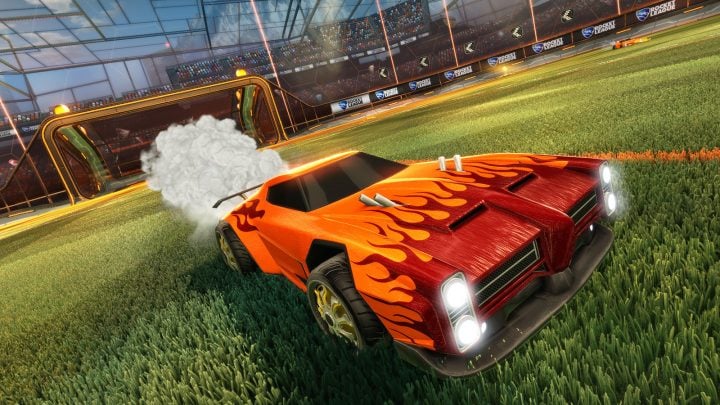 In the Red Bull interview Hagewood was asked whether users could ever expect Rocket League to arrive on the Xbox One. Hagewood, doesn't directly answer the question. Instead he deflects, making a broad statement about future plans for the game in general.
"I can't say. We're looking at all kinds of platforms and there may be some announcements coming up at some point. Hopefully before the end of the year, but I can't confirm that." With the game already on Windows PCs and the PS4, the only other platform left does seem to be Microsoft's Xbox One. In fact, bringing the game to the Xbox One would theoretically be easy. Recent upgrades to the Xbox One have made the development process for making Xbox One games, technically very similar to that of Windows PCs.
Game Spot reports that Psyonix representatives have confirmed that they're in the process of bringing the game to new platforms before. Months ago one representative told the outlet that, "we [Psyonix] are definitely bringing Rocket League to additional platforms." That employee, the Vice President of Marketing Jeremy Dunham confirmed that the company would have an "official announcement: of those platforms chosen, "further down the line."
Rocket League might seem like its something inconsequential. Nothing could be further from the truth. Microsoft and Sony use exclusive games to power their sales. For example, Microsoft rode sales of Halo 5: Guardians to the top of living room console sales charts this past October, according to research from NPD Ground. No game is inconsequential. No title is too small to make all the difference between being the best-selling console and the second best-selling console.
If Rocket League does come to Xbox One, users will have one less reason to purchase a PlayStation 4, which is exactly what Microsoft wants. To be clear, Sony is able to play this game too; Microsoft locked down Rise of the Tomb Raider for its platforms this year. It's unclear how many people actually purchased the Xbox One to play the game knowing that Square Enix and Crystal Dynamics plan to release the game on PS4 and Windows PCs sometime next year.
If exclusives are currency in the fight between console retailers, Sony is out of cash and so is Microsoft. Sony went bankrupt a bit earlier though. It delayed Uncharted 4 into next year. Uncharted: The Nathan Drake Collection was a compilation of past games in the series. It is the only console being advertised with and being bundled with a copy Star Wars Battlefront next week though. Microsoft launched Halo 5: Guardians this October, with Rise of the Tomb Raider debuting this week. Sony users also get access to Call of Duty: Black Ops 3 add-on content a month before Xbox One users do.
The Xbox One and PS4 are on equal footing as far as price is concerned. An Xbox One bundle with 500GB of storage now costs $349.99. The PS4 also costs $349.99. Both bundles come with free games.

This article may contain affiliate links. Click here for more details.