RocketFish Stylus and Pen Review: Perfect Weight and Packs a Pen for Analog Signing
The RocketFish Stylus and Pen from Best Buy is the perfect weight and length for an iPad stylus. The fact that it also has a ballpoint pen is a nice plus. RocketFish is the Best Buy brand of technology products. While many of their RocketFish branded accessories are often cheap knock-offs, this is the exception.
Writing
The iPad and other touchscreen tablets or smartphones do not offer the precision that you get from something like a Tablet PC with an active digitizer. It is impossible to find something that matches that experience. The RocketFish Stylus and Pen is as good as you will get. It has a rubber rounded nub on one end that flows over the surface of the iPad and our HTC Thunderbolt screens.
Our favorite inking apps are Note Taker HD and Penultimate. Here are a couple of samples of notes we took using the pen with these apps. First, here is a sample in Note Taker HD.
Second, here is a sample of some art work my son drew using SketchBook.
Design
The weight and length of a pen is more important than you think because of comfort. A flimsy pen or a pen that is too heavy won't be comfortable to use for long inking sessions. It also affects apps where pressure affects thickness of the drawing point. If it is too short – a common problem for styli – it will be hard to write with. I like a pen with some weight and this one is a little heavier than other styli we have used. My previous favorite was from Kensington. This one feels better, is slightly longer and heavier plus it has the ballpoint pen.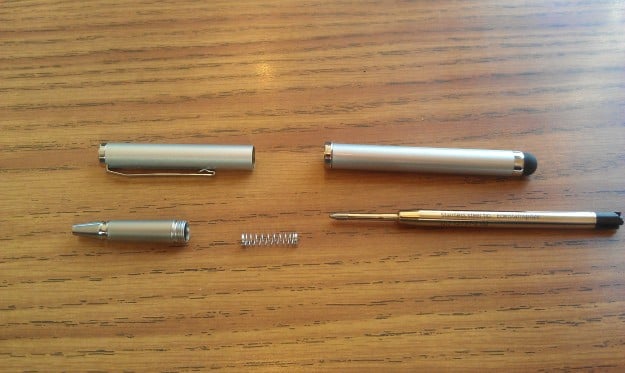 Since I first got my iPad last year, I've gotten out of the habit of carrying pens. I don't use them much at all. However, there are those few occasions when you need one to deal with users stuck in the pre-tablet era. Until the rest of the known world catches up with modern life, we still need a pen with real ink on occasion. It is nice to have both in one tool. As a pen it works. The pen portion writes smoothly and uses Schneider refills, which are standard enough to find at a local office supply store.
There is one problem – the paint on the plastic barrel chips off. I carry it around in my pocket and my keys must have scratched it (see first image above). My fear is that it will happen often and start to not only look bad but feel bad as you use it. Only time will tell.
Conclusion
The way the RocketFish Stylus and Pen feels in your hand, due to the weight and length, outweighs the problem with it chipping. We think at $26.99 the RocketFish Stylus and Pen is a good buy.

As an Amazon Associate I earn from qualifying purchases.