Roger Waters doing Tablet PC's at the Hollywood Bowl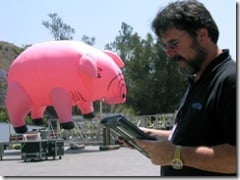 You really need to go and check out some of the pictures over at Tablet PC2 – all kinds of Tablet PC's and UMPC's big and small. Interesting on how they use Tablets to control the sound board huh??? Any Pink Floyd fans here on GBM?
Is it me or is that pig getting ready to have an x61 for dinner!!

As an Amazon Associate I earn from qualifying purchases.