Roku 3 Adds Headphone Port to Remote & New Interface
Today Roku announced the Roku 3, its new set-top streaming device that promises to make it easier for late-night viewers to watch movies without waking up the house.
The Roku 3 is the newest in Roku's line of media streaming devices that improves upon previous versions in a number of ways. As expected with a new numbered release, the Roku 3 has better specs, which means it will run faster than previous models. That means less waiting for apps to load, so users can get to their content faster.
Perhaps the biggest addition to the new Roku 3 is the headphone port in the remote for the new device.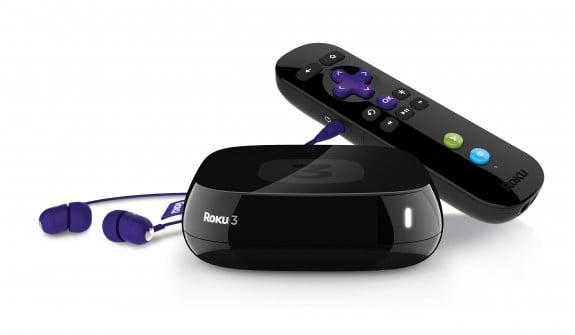 The headphone jack will let users watch movies or TV shows on their HDTV while not disturbing others with the sound. It's a great feature for users who stay up late and don't want to wake up others who might be sleeping.
The headphone jack is unique to the Roku 3, and is something that Apple's Apple TV can't match at the moment. It seems a natural fit for media streaming boxes to let users listen to audio through their smartphone while watching something on the HDTV.
It's not a feature everyone will want, but some might find such a feature nice as they prefer to watch content on a larger screen.
The Roku 3 also has a new UI that Roku claims is easier to use than its current UI. The new layout uses a grid of boxes to represent channels on the Roku, making it easy for users to select the one they want. The new UI will ship first on the Roku 3, and will come to other Roku devices as a free software update in April.
As always, the Roku 3 can access any of Roku's more than 700 channels, including the new TWC TV app that also released today.
The Roku 3 is available for order today from Amazon and Roku.com for $99.99. It will come to retail stores this April.

As an Amazon Associate I earn from qualifying purchases.