Roku Offering the Roku Streaming Stick for $50, Takes On Chromecast
Starting in April, Roku will ship a new $50 Roku Streaming Stick that plugs into a TV's HDMI port and will take on the Google Chromecast. The Roku Streaming Stick offers the same user-interface and channels that the current Roku Box offers taking up less space and costing about half as much as the $100 Roku 3 set-top box. It doesn't yet let users cast content to the stick like the Chromecast. Roku says they'll add that later.
With the explosion of set-top streaming boxes from Roku, Apple and more, the Roku Streaming Stick solves a clutter problem. It will take up less space on top of a TV or on an entertainment center shelf. The Roku Streaming Stick gets its power from the HDMI port so there's no need for a cord plugged into the wall outlet. The built-in Wi-Fi makes an Ethernet cable unnecessary.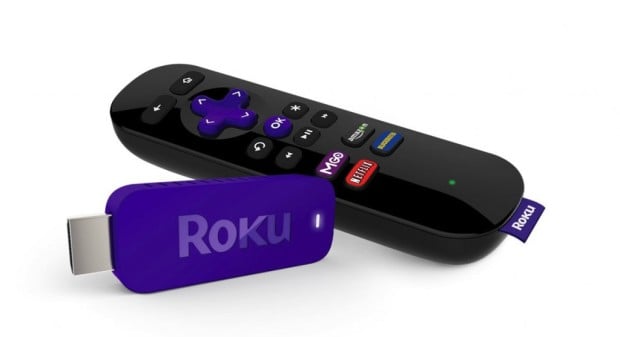 The Roku Streaming Stick replaces the previous version that didn't sell well, probably because it only worked with a limited number of TVs. This version works on most modern TVs so long as the HDMI port supplies enough power for the stick to run. Roku doesn't include a USB connection to supply that power like the Google Chromecast.
The Roku service offers around 1,200 channels that stream in 1080p HD, if available from the channel creators. The device connects via Wi-Fi, so buyers will need a good Wi-Fi signal in the room where they plan to watch otherwise the stream will stutter.
The new Roku remote comes with the same buttons the former remote offered plus four dedicated service buttons for Netflix, Amazon Instant Video, M-Go streaming service and Blockbuster's streaming service. We wish they'd let us customize these buttons with our favorite channels. Many buyers won't user all the services hardcoded to these four buttons. I'd replace M-Go with Hulu Plus and Blockbuster with HBO Go.
Roku owners can use their iPhone or Android phone as a remote. Install the app and connect it to a user account by signing in. The Roku Streaming Stick must connect to the same Wi-Fi network as the phone for the app to control it.
Roku started taking pre-orders earlier this month and will ship the Roku Streaming Stick sometime in April. Others taking pre-orders include Amazon, Best Buy, WalMart and Target.