Roku TV Beats Apple's Mythical iTV to the Market
Apple, which already competes against Roku and other inexpensively priced set-top streaming boxes on the market, is rumored to be making its own branded smart TV but it looks like Roku has beat the Cupertino, California company to the market. Now, rather than having to connect a Roku box to your existing HDTV set at home, a fully integrated Roku TV HDTV unit will connect you to all the Roku channels without requiring the addition of an unsightly box, regardless of how small such set top box is.
According to the company, the Roku TV will be similar in scope to the third-generation Roku unit dubbed the Roku 3. However, it will add some specific controls that will make it easier to navigate the Roku TV.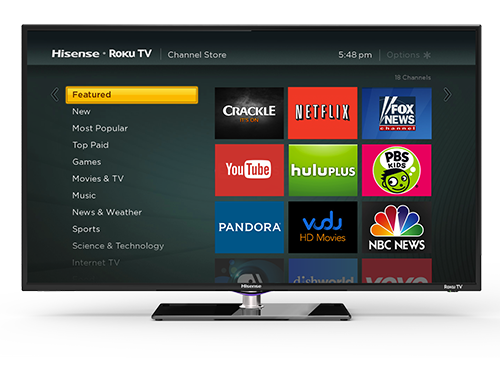 One of those controls would be an integrated smartphone app for iOS and Android smartphones. With the app, users can use the touchscreen on their smartphones, similar to a trackpad or touchpad on a laptop, and navigate the menus and controls of the Roku TV.
Currently, the Roku TV will feature over 31,000 movies and over 1,200 channels. Roku also has channels for Netflix, Pandora, Hulu Plus, YouTube, and other channels.
Roku itself isn't undertaking the manufacturing of the Roku TV. Roku is partnering with top manufacturers TCL and Hisense initially, and down the road, the company could license out the platform to additional manufacturers to bring the Roku experience natively inside the box and make these TVs even smarter without requiring any additional external hardware.
It looks like when it launches, the mythical and highly anticipated Apple iTV will get some competition from Roku. The two companies have, after all, been battling it out in the affordably priced set top box market for some time now.
Roku TV will likely compete with LG's webOS-based smart TVs, the upcoming Tizen OS that could potentially invade the smart TV space, and Android on TVs.