Roku TV Is Coming to Your Living Room in a Big Way — Literally
Roku is usually known for its top-quality set-top boxes, but the company announced that it's changing things up just a tad by revealing an actual Roku TV, thanks to a partnership with TCL and Hisense.
There's not a lot of details just yet, but these Roku TV models will come in six different flavors ranging from 32 to 55 inches. Essentially, these are just traditional smart TVs that we've known and loved for the past couple of years, but instead of including poor in-house software from the manufacturer itself, these television sets will come with Roku's own software.
If you know anything about Roku, it's that the user interface is one of the best in the set-top box market, and with most smart TVs equipped with less-than-stellar UIs, a Roku-based smart TV is a huge welcome. Roku certainly agrees, saying that "Roku TV removes all of the complicated layers and menus, and unnecessary features and settings that plague smart TVs today."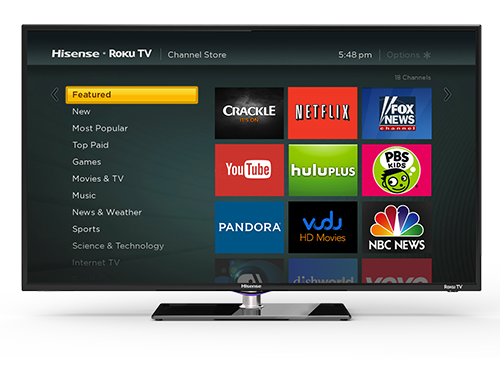 Roku TVs can also be navigated using an iOS or Android device with the Roku app, allowing you to use your smartphone or tablet as a remote control — something that should be a given nowadays with smart TVs.
Roku is mum on price and availability for its Roku TV, but considering that these televisions will be made by cheap Asian manufacturers, you can probably expect low prices for these televisions. Roku says that more manufacturers will jump on board, but the company didn't mention which manufacturers we'll see.
Roku's move into the television hardware sector definitely comes as a slight surprise, but it's also not that crazy, and it shows that Roku continues to be more and more serious about the set-top box and television market. The only question is whether or not folks will buy these TVs due to the quality, but we're hoping top television manufacturers will sign on, including Samsung and LG.