Roller Coaster Tycoon 3 Release Brings Fun to iPhone & iPad
After being on the market for over 10 years, Roller Coaster Tycoon 3 is finally releasing for the iPhone and iPad, bringing the joy that you used to have from your PC to the mobile platform for the first time.
Roller Coaster Tycoon 3 initially released on PC back in 2004 as a sequel to Roller Coaster Tycoon 2 and the original Roller Coaster Tycoon. It was the first title in the series to be completely re-done and move to a 3D interface, getting rid of the top-down interface that made Roller Coaster Tycoon so popular. The new design and interface allowed for many new features to come to the game, including the Coaster Cam.
Since then, there have been a couple of new Roller Coaster Tycoon titles, including a Roller Coaster Tycoon mobile game for iOS, but it's merely just another freemium game that hounds users to pay money if they want to speed things up, which can quickly take the fun out of it.
However, the series on mobile has taken a step back in order to take two steps forward by releasing the older Roller Coaster Tycoon 3 on iOS. The new mobile game (developed by Frontier, not Atari) costs just $4.99 up front and doesn't come with any in-app purchases at all, meaning that you won't have to bother with time-based upgrades that persuade you to spend real money in order to speed things up. Instead, it acts like a true video game should and gives you all the features you'd want without having to pay more for the privilege.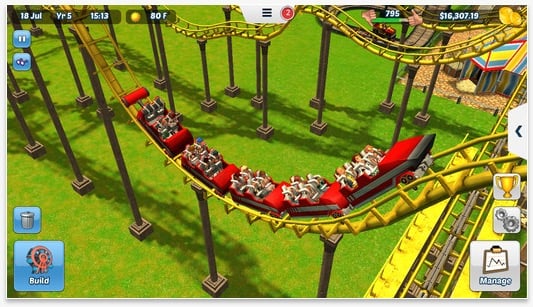 Roller Coaster Tycoon 4 hasn't received the best praise to say the least, as the mobile game's upgrade model isn't the best around unless you spend real money to move things along more quickly. Of course, many games employ the same gameplay style, but it seems Roller Coaster Tycoon 4 does the worst job at it.
With that said, it appears Roller Coaster Tycoon 3 is Frontier's fix for Roller Coaster Tycoon 4, as the new mobile title completely changes things around and gets rid of in-app purchases in favor of a one-time payment up front, a pricing model that used to be popular for iOS games, but has since taken a back seat to the lucrative freemium model.
Roller Coaster Tycoon 3 on iOS uses the same 3D layout as the PC version of the game, and also includes all 18 scenarios from the PC game. There's even a sandbox mode for unlimited fun without any limits.
You can design your amusement park using five themes that are available: Generic, Spooky, Western, Adventure, and Sci-fi. Build it how you want, but make sure you're guests are happy so that you earn more in-game money.
Also in the mobile version of the game is Coaster Cam, which lets you ride along with roller coasters and other rides that you just built. Even custom-made roller coasters can be ridden using Coaster Cam, giving you a first-person view of what it's like to ride the roller coaster of your dreams.
The iOS game only works on a handful of devices, including the iPad Mini 2, iPad Mini 3, iPad Air, iPad Air 2, iPhone 5S, iPhone 6 and iPhone 6 Plus, although the game will probably perform better on newer devices like the iPad Air 2, iPhone 6, etc.
While we would love to see the original Roller Coaster Tycoon make its way to mobile devices, having Roller Coaster Tycoon 3 available on iPhone and iPad is a good start, and hopefully that will open the door for older Roller Coaster Tycoon titles to release, especially if this new release turns out to be a big success for Frontier.