Roy Blumenthal's Tablet PC Artwork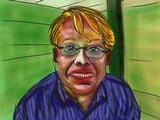 Roy Blumenthal has some pretty amazing artwork posted on Flickr. According to his notes, he uses Alias Sketchbook Pro 2.0 on his Toshiba Tecra M4 Tablet PC mounted onto an easel attached to a tripod. Very cool stuff. Some may find some of the artwork a bit on the erotic side, so follow the link at your own discretion. Of course this one based on Scoble's infamous "How I feel" picture on the night of his big announcment could be deemed offensive for completely different reasons. ;-> (Robert blames Scoble's Tablet PC advocacy for his purchasing of a Tablet PC.) Also check out his take on Dave the LifeKludger Wallace. Very cool.

As an Amazon Associate I earn from qualifying purchases.