Royals vs Orioles Live Stream: ALCS Game 4 Details
If you can't make it home in time for Game 4 of the ALCS with the Royals vs Orioles, you still have plenty of options to choose from so that you don't miss any of the action.
Today is Game 4 of the Royals vs Orioles ALCS series, with the underdog Royals leading the series 3-0. One more win for the team will take them to the World Series for the first time since 1985.
The Royals will look to Lorenzo Cain for that magic glove in the team's defense, while Alex Gordon will provide the Royals with the best RBI potential to score runs. The Orioles, on the other hand, will rely on Nelson Cruz's hot-hitting bat to provide the power during the remainder of the series against the Royals.
Today's ALCS game 3 starts at 4:05pm ET and will take place in Kansas City. Most folks should be home from work by then, but if you're not able to be at home and can't catch the game on television, there a couple of live-streaming options that you can choose from.
We'll show you the best ways that you can watch the ALCS live stream of game 3 without the hassle of finding a live stream yourself.
On Your Television
If you already have cable, that's most of the battle right there, and you're good to go. All ALCS games will air on TBS, including tonight's Game 4.
However, the World Series will air on local FOX channels, so you'll only need at least an over-the-air antenna to watch the World Series.
If you don't have cable, which isn't too surprising to hear since so many people are getting rid of it in favor of streaming options, you're not completely out of luck, but it won't be as easy as flipping the channel on your remote.
Streaming Online
There are several ways you can watch live television on your computer, and there are a few somewhat shady websites where you can live stream TV shows and sporting events. Some websites that comes to mind are Stream2Watch and Wiziwig. You can live stream sports, as well as specific channels in order to watch a specific television show that comes on.
It's also a good idea to enable some sort of ad blocker when accessing these kinds of websites, as they're usually littered with advertisements.
Furthermore, don't expect the best quality when streaming from these websites. Most of them only offer standard definition quality.
Of course, this practice is illegal for the most part (not for you, but for the website providing the service), so if you don't feel comfortable doing this, we don't blame you. However, your options get a bit slimmer from there.
You can also use MLB.TV, which allows you to watch baseball games live on your computer, but the service charges a fee of $3.99 for the remainder of the season, and if you don't already have a subscription to the service, it's probably not worth paying $4 to watch just one game, although it will give you access to watching the rest of the playoffs if you're interested in that.
You can also use the MLB.TV app on a variety of streaming devices, including the Apple TV, Xbox, PlayStation or Roku.
MLB At Bat
MLB At Bat is an app that's available for iOS, Android, BlackBerry and Windows Phone devices, and it allows you to watch live baseball games right on your phone or tablet.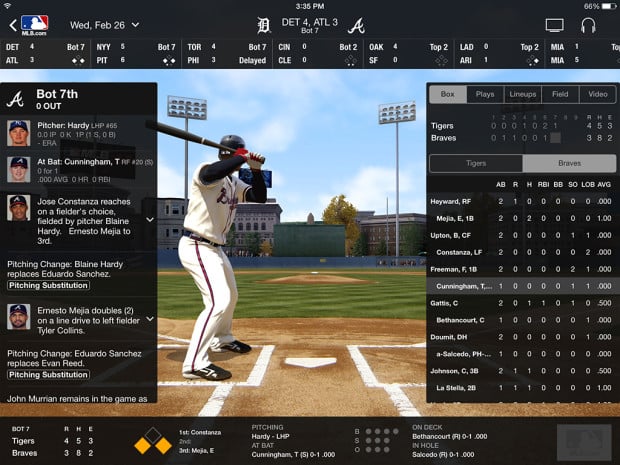 The app itself is a free download, and a one-time $3.99 charge will get you access to all sorts of stats, highlights, replays and more during the entire playoffs, as well as the ability to live stream playoff games.
MLB At Bat will let you stream every game of the World Series, as well as select playoff games, but not all of them, so that's something to be aware of.
Ofcourse, one big complaint with MLB.TV and MLB At Bat (as well as other live sports apps) is that there are blackout restrictions, meaning that if you live near the team you're wanting to watch, you won't be able to. This is to get more people to the stadium to watch the game, rather than just stay at home and watch it on the TV (and it also has to do with broadcast licensing rights and a whole bunch of other nonsense). It's a clever move for the parties involved, but it's really annoying for us fans.