Transport Company Saves Big Money, Improves Safety with Rugged Tablet PCs
Heniff Transportation Systems shuffles 300 trucks, 550 trailers and hundreds of drivers. The company employs rugged Tablet PCs in order to better serve its customers, meet safety standards and keep costs in check. Illinois-based Heniff Transportation Systems serves an array of clients that need to move bulk liquid chemicals. About 40% of the tanks the company transports contain hazardous materials that require special handling. Based in Oak Brook, a Chicago suburb, the company has terminals in Illinois, Louisiana, Pennsylvania, Tennessee and Texas.
Heniff Transportation Systems IT Director Joe Neal explained that MobileDemand xTablets help accomplish the company's mission.
"Our mantra is to transport chemicals safely, securely and on-time, every time," Neal said. "Our old in-cab solution was a glorified text messaging device. The MobileDemand tablets are rugged and robust tools that save us a lot of time and money while helping us work better."
Heniff Transportation Systems currently uses MobileDemand xTablets in 80% of its fleet and plans to roll out the devices to remaining trucks by the end of 2013.
Neal said that his team selected a PeopleNet plus MobileDemand solution because it solved real business problems and they found drivers would actually use it. The rugged tablets are the central piece of hardware in the setup, while PeopleNet provides the software and in-vehicle accessories that complete the solution.
"It had to be easy to use. We learned that if an onboard computer system is too complex, drivers won't take to it and won't use it no matter how good our training is," Neal said. "If it's not rugged and robust it won't work."
The MobileDemand xTablets are installed in Heniff Transport Systems' cabs to serve several functions. They sit on mounts and are equipped with flip-top handles so drivers can release the tablets and use them outdoors when needed.
The computers are hooked up to the trucks' electronics system, which means detailed driving information is collected. The xTablets carefully monitor how fast drivers go, how long they idle the trucks and even how they shift gears.
"The best speed to drive is 62-64mph and the optimal shift point is 1,400 RPM. If you're shifting at 1,600 RPM or over you may as well be pouring fuel on the ground,"" Neal said. "Our goal is to get the fleet's MPG up one mile per hour. If we can do that, that's a million dollars in savings per year. We're still working on that goal, but it's achievable."
Neal explained that the xTablets allow the company to reduce fuel waste when the truck isn't even moving. Some truck drivers leave engines idling while resting at truck stops to keep their cabs warm or cool, even though Heniff's newer trucks are equipped with auxiliary heat and AC units that can be used when the truck's' engine is turned off. It costs $30 per day to heat or cool each truck when idling. That might not sound like a lot, but it certainly adds up when there are hundreds of company trucks on the road. The new system allows Heniff to identify which drivers are being wasteful and remind them to use the auxiliary heating and cooling units.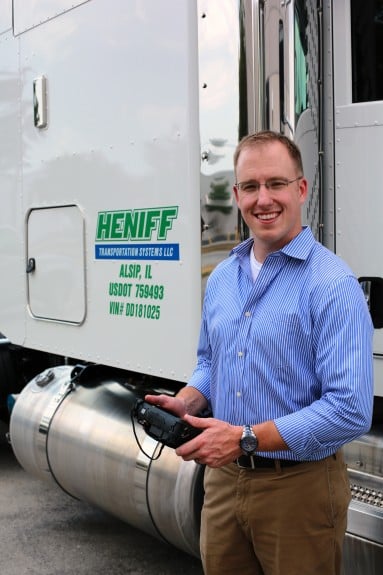 Neal credits the xTablet for saving more than just fuel. The xTablet actively monitors mechanical faults and sends alerts in real time to the maintenance shop when severe issues are spotted. In one instance, the system detected low oil pressure and sent an email to a shop manager. The manager called the driver and told him to get off the road before the driver even saw the check engine light, possibly saving an engine that would cost more than $20,000 to replace.
The xTablets are also used as navigation systems that help guide drivers to their destinations efficiently. Since 40% of the company's shipments are hazardous, the trucks can't always take the shortest routes. Instead, drivers must input applicable hazmat codes alongside the destination addresses to find the best route that avoids certain roads and bridges.
Heniff Transportation Systems uses the tablets to make sure its drivers are complying with safety rules. For example, drivers aren't allowed to drive for more than 11 hours per day or be on the clock for more than 14 hours. This information is now automatically logged in the tablet-equipped trucks. Before the xTablets were installed, time logs were kept with pen and paper. Dispatchers would never know if drivers were actually staying under the limits.
Having a mobile computer at drivers' fingertips could be distracting, but the xTablets are automatically locked down when the vehicles are in motion.
Heniff configured the tablets to help drivers serve specific customers better. Some clients require driver-specific procedures to be taken when chemicals are picked up or dropped off. Drivers must complete a rigorous checklist and calculations, something much easier to do with the new automated system.
Neal says the cost of the MobileDemand xTablets and PeopleNet system is easily offset by fuel savings and other efficiencies in less than six months.

This article may contain affiliate links. Click here for more details.