Tablet PCs the Right Choice for Rugged World
The iPad and other consumer tablets are great for some tasks, but they're not the right tools for every job, especially those that take users into rough environments. Rugged Windows Tablet PCs, such as the newly introduced MobileDemand xTablet 7200, are professional-grade and purpose-built to stand up to serious abuse.
Most tablets are designed to be used at a desk, coffee shop or at home, ignoring the needs of men and women who work in warehouses, in commercial vehicles and outdoors. While consumer-grade tablets do fit some businesses' needs, there are important tradeoffs to consider before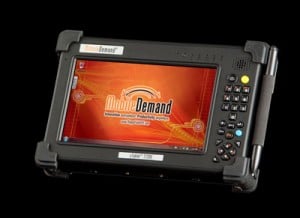 going with a tablet designed primarily for consumers. Tablet buyers should consider a rugged tablet If their businesses or operations simply can't afford any tablet downtime. For some businesses time, money and customers.
There are a handful of rugged tablet manufacturers out there, but after years of hearing rave reviews from MobileDemand customers we recommend the company and its xTablet 7200 as a benchmark.
Durability and Reliability
Rugged Tablet PCs can go just about anywhere. They can stand the heat of summer while riding shotgun in a hot truck cab and perform equally well below freezing. They can be dropped onto hard surfaces without flinching and shrug off the dirt and debris they run into at manufacturing facilities and constructions sites.
Rugged tablets generally meet military standards and international protection ratings for vibration, drop, dust, humidity and water protection. While some consumer tablets can be outfitted with protective cases, they still cannot match the durability and reliability of a real rugged Tablet PC.  For example, the Tablet T7200 will operate in temperatures ranging from -4F to 140F. By comparison, the iPad is inoperable in heat as low as 95F, displaying a warning screen that tells the user to wait until it cools down.
Full Windows PC
Rugged Tablet PCs can be used by a range of workers in varied work environments at the same organization. Tablet PCs run full versions of Windows. This means those in the office, warehouse and delivery trucks can all use the same device and software.
Standardizing on a single device means streamlined purchasing, implementation and support. This means organizations can simply use their existing Windows applications on their mobile devices rather than building new iOS or Android apps, which don't always have all the functionality as their Windows counterparts.  Rugged Tablet PCs allow businesses to run full versions of SAP ERP, and other business software that doesn't fully translate to iOS and Android, on the go.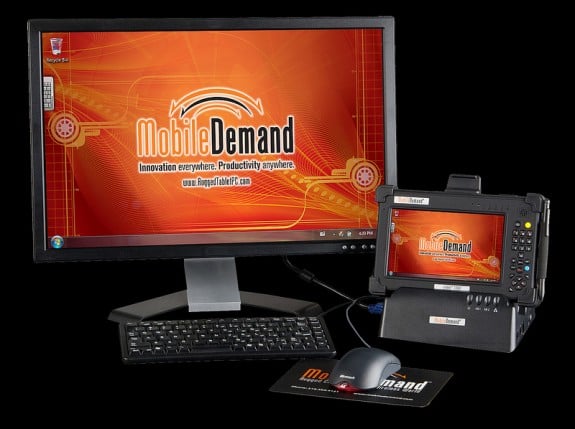 Tablet PCs can double as desktop machines, allowing users to work on a single device throughout the day. For example, field inspectors can use their tablets to log information using a stylus and write up reports from the comfort of a full-sized monitor and keyboard.
Consumer tablets have very few ways to connect to peripherals, networks and other devices. Rugged Tablet PCs offer a full array of expansion options including USB, Ethernet and Serial ports. Peripherals like credit card scanners and QWERTY keyboards are ruggedized as well.
The above setup is an a rugged Tablet PC that's used to coordinate jet fueling. Invoices and other documents can be printed for customers on the spot.
Total Cost of Ownership
Rugged Tablet PCs have higher price tags than iPads and similar consumer devices, but companies and organizations should consider the total cost of ownership before letting a $499 price point seduce them. A quality rugged Tablet PC costs north of $2,000, but the increase in productivity, reliability and durability can easily offset the cost difference over its lifetime. For some users, rugged Tablet PCs can serve as their only mobile device, while those using consumer tablets will usually need an additional desktop or laptop. Software development for mobile operating systems can be costly in terms of dollars and time of development.
Before opting for an iPad or Android tablet, businesses should ask themselves what a day of tablet downtime would cost and if there are any hidden costs that might make a Tablet PC a more viable option.

As an Amazon Associate I earn from qualifying purchases.