Rumor: Apple Will Announce Two New iPads In January, Will be Delivered By Unicorns
Ain't no party like an iPad rumor party, because an iPad rumor party don't stop. Am I right? Digitimes has once again called on anonymous sources who have a very interesting story to tell:
Apple will announce new iPads on January 26th at iWorld, which is part of MacWorld. The new tablets will have 2048 x 1536 resolution Retina displays, and the only difference between them will be the rear-facing camera. One will have 8MP and the other 5MP. Supposedly this will distinguish one as being high-end and one being mid-priced while the iPad 2 becomes a low cost low-end offering.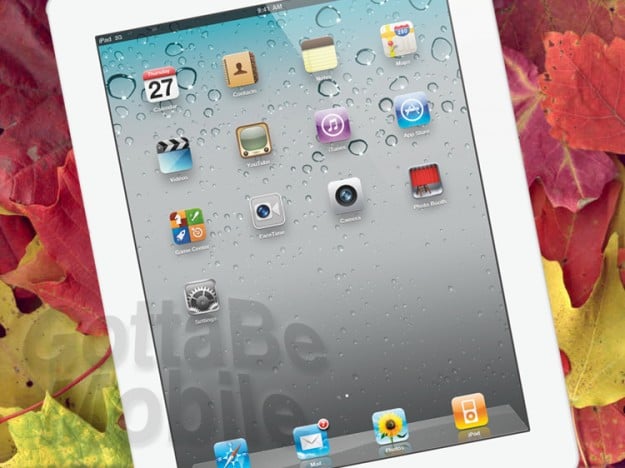 As others have already pointed out, the proposed timing is off given the fact that Apple pulled out of MacWorld some time ago and other rumors point to a February announcement, which is more in line with past actions. Plus, having the camera as the only distinguishing feature just seems silly. People don't worry over tablet cameras as much as they do smartphone ones. Not enough to make the megapixel count the difference between spending a little and spending a lot.
The Digitimes report also claims that the new iPads will come with LED light bars to increase brightness, a longer-lasting battery, and a quad-core A6 processor made by Samsung.
TechCrunch puts more stock in these rumors than earlier claims that Apple would go after the smaller screen size market with a 7-inch iPad. Especially since Steve Jobs is already on record as saying the iPad is the perfect size and 7-inch tablets are just too small for people's big, meaty fingers. He was wrong, of course. So maybe anything is possible.
Another aspect of the report everyone finds credible is that the iPad 2 will compete with lower-priced tablets while the newer models maintain the high price tags. Will this mean a drop to $399, $299, or even $199?

As an Amazon Associate I earn from qualifying purchases.