Rumor: Microsoft Working on Its Own Tablet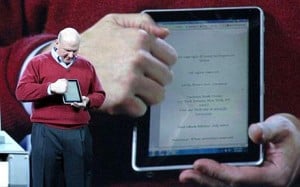 This is probably grain of salt time. Digitimes is reporting that Microsoft might be looking at creating its own Tablet to be released in 2012. Texas Instruments would reportedly build the device. Supposedly the push is to try and compete with some other Tablet maker from Cupertino. Again, who knows if this is true or not. If it is it makes sense in the context of controlling both the hardware and the software creation. You can argue that Microsoft's partner approach which made since in an earlier age, also led to hurdles that hindered innovation.
With Microsoft so far behind in the Tablet-scape, I'm not sure if this makes good sense or not.
But then again, did I hear someone say Courier?
Via Business Insider

As an Amazon Associate I earn from qualifying purchases.