Rumor mill grinds out a BlackBerry tablet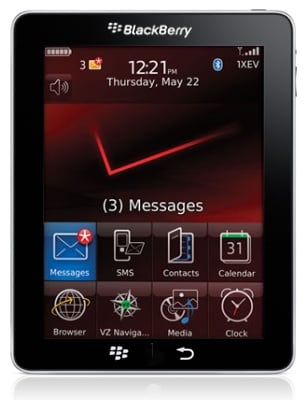 A BlackBerry leak out of website BlackBerry Leaks indicates RIM is working on a tablet device to add to their gadget lineup.
Hardly earth-shattering news since everyone and their brother is working on a tablet now, but not really expected either since RIM pretty much sticks to their bread and butter. Their most recent attempt to deviate from their standard hard keyboard design (seen here in mock-up tablet form) didn't exactly set the world on fire. A tablet would go even further than that. Per BlackBerry Leaks:
We've received word from a connect that RIM is in fact working on a tablet. We do not have many details at the time, but we have been told that it will be smaller and thinner than the iPad. The BlackBerry tablet also goes by the codename: 'BlackPad' or possibly could be what Bla1ze from CrackBerry tells us, 'Cobalt'. The tablet will have full BlackBerry OS compatibility and functionality (note, we didn't say what kind of OS, lol).
Smaller isn't a big deal (pretty much every would-be iPad competitor is skewing smaller), but it would be impressive if they can pull off a thinner design. It will be interesting to see if this "BlackPad" amounts to anything. If released, I vote for "PadBerry" or "BerryPatch" as the product name. Oh wait: "BlackBoard"!
Via CrunchGear

This article may contain affiliate links. Click here for more details.