Rumored LG G2 Mini Promises Powerful Specs in More Compact Footprint
Miniature sized phones that resemble larger flagships seem to be the trend this year, with HTC and Samsung leading the pack with the "mini" versions of their HTC One and Galaxy S4 models respectively, and it looks like rival LG will be following suit with an LG G2 mini.
As LG has not announced the phone, and we haven't heard about the LG G2 Mini before, all this information should be considered as speculation.
The rumored phone is said to be based off of the LG G2 flagship, a powerful phone that was released with a quad-core Qualcomm Snapdragon 800 processor. And unlike HTC and Samsung, both of which crippled the One Mini and Galaxy S4 Mini in terms of specs, it looks like LG won't be following this path. Rather, it's believed that the LG G2 will still maintain the powerful specs under the hood, which includes that quad-core Snapdragon 800 chipset, 2 GB of RAM, and a high resolution display. At this time, Phone Arena is still unsure if that high resolution display will be a standard HD screen or a full 1080p HD display like that on the G2.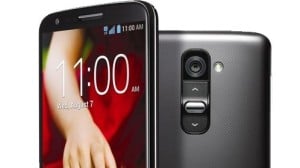 As the LG G2 is the first phone to be introduced with buttons that have been re-positioned to the rear of the device–a move that LG says improves ergonomics–it's unclear if the LG G2 Mini would follow in the same design trend.
What is different between the G2 and the G2 Mini is the screen size. Rather than the larger 5.2-inch display of the current LG G2 flagship, the miniature version of the phone is rumored to be packing in a 4.7-inch display instead.
Though LG hasn't made any announcements or comments regarding the LG G2 Mini, a device like this could debut early next year at either the Consumer Electronics Show in January in Las Vegas or at Mobile World Congress in Barcelona.