RunKeeper Updated With Pebble Smartwatch Support
Both the iPhone and Android RunKeeper apps now feature support for the Pebble smartwatch, giving runners realtime information about their runs on their wrist.
After installing the update users just have to launch the RunKeeper app on their iPhone or Android smartphone to start syncing data to their smartwatch. The smartphone app will launch a companion app on the Pebble which will display run information in realtime. The Verge shows the companion app can sync the time of a run, the distance the user ran and their average speed.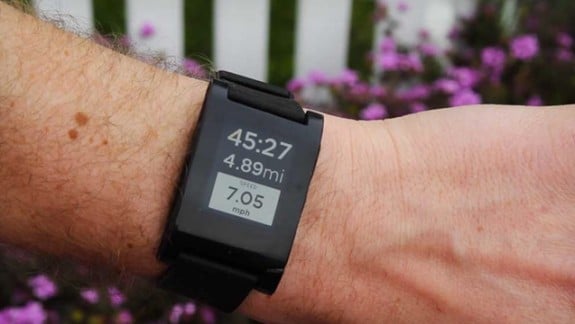 Unfortunately for users, the companion app only displays data and doesn't seem to relay any data back to the smartphone app. It's merely an easier way to view data during a run. The feature is great for runners who love RunKeeper, but it likely won't replace a Nike+ FuelBand, or a Fitbit, for users who want more data.
Other fitness trackers, and even a few fitness apps, will help users track the number of steps they take, but RunKeeper doesn't do that. The app does track the number of calories a user burned during a run, however, which most fitness trackers do as well.
RunKeeper also recently partnered with Jawbone and Fitbit to bring its data to their fitness tracker apps. The integration gives users a fuller view of their fitness and health when paired with daily activities and food consumption.
Right now users who want to get as much data about their fitness and health as possible have to wear at least one dedicated fitness tracker. A smartwatch will help display more information, but takes up another wrist, assuming the user has a wristband tracker.
Eventually a smartwatch or other wearable tech may incorporate fitness tracking. There is no ultimate wearable yet, however, just a bunch of different devices ranging from the Fitbit Flex to Google Glass, and rumored smartwatches that all do one or two things really well.

As an Amazon Associate I earn from qualifying purchases.