Running Vista in lite mode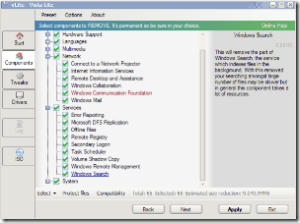 Dennis came across this application called vLite that lets the user customize their Vista installation before actually installing it. In essence, you can turn off the functionality you don't need before installing Vista, thus ending up with a lighter running installation. This could be a good thing for Tablet PCs and Ultra-Mobile PCs that are performance constrained. The download is free, but the developer is accepting donations if you find the application useful. In addition, there is a very active support here.
Here is a description from the product page:
vLite is a tool for customizing the Windows Vista installation before actually installing it.
Main features:
remove components

integrate drivers

merge Vista installation CDs into a single image

apply tweaks

make bootable CD/DVD
Windows Vista from Microsoft takes a lot of resources, we all know that. This tool provides you with an easy removal of the unwanted components in order to make Vista run faster and to your liking.
This tool doesn't use any kind of hacking, all files and registry entries are protected as they would be if you install the unedited version only with the changes you selected.
It configures the installation directly, before the installation, meaning you'll have to remake the ISO and reinstall it. This method is much cleaner, not to mention easier and more logical than doing it after installation on every reinstall.

As an Amazon Associate I earn from qualifying purchases.