SaferCar for iPhone: Instant Safety Recall and Crash Info for Cars
Currently only available for the iPhone, the SaferCar app allows people to browse five-star safety rated vehicles. The app can access all of the The National Highway Traffic Safety Administration (NHTSA) safety data at any time, providing helpful information when comparison shopping several vehicles.
If you have ever turned on the evening news you've probably noticed a vehicle recall or two. It's important, whether you drive a new (or new-to-you) vehicle, to keep up on the latest safety recalls and updates. If purchasing a vehicle, you might also want to know just how safe it is. While many manufacturers and car salespeople claim that the vehicle they are selling is safe, many people wait to see what the official government test data states from the NHTSA.
After the purchase, SaferCar (iTunes link) will allow you to view all safety and recall information at any time, and even features integrated push notifications to alert you the instant something is published about your vehicle. With Chrysler's latest recall on the 2013 Challenger, the company issued a "Do Not Drive" recommendation on the car. Chrysler did not even want people to drive the vehicle home for work! A push notification gives instant awareness of these safety concerns.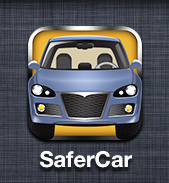 SaferCar is also helpful for new parents (or people who might be responsible for children) by helping the person locate a child safety seat installation location. These places provide the seat installation for free, and help ensure that the seat is installed properly.
Other safety alerts and notifications will also be pushed out to the device as necessary. The NHTSA also announced that they are working on an Android version of SaferCar, but did not announce a time table for that.
Finally, the NHTSA also announced a public API, allowing developers to create applications and interfaces to access all of the vehicle data. While many people may not download the SaferCar, auto manufacturers could include the push notification system into their own apps (like the OnStar app or the Ford app), or third party app developers like Kelly Blue Book could also provide the relevant data.
More information is better, and making this extremely important safety information available to more of the public is a good thing. It is nice to see the government implementing open standards for the data.