Sam's Club Offers iPhone 4S Preorders Today for Friday Pickup
In addition to the other stores where you can get an iPhone 4S, Sam's Club started taking preorders for the Apple iPhone 4S today at their club locations. Buyers can get their's reserved for pickup on Friday, October 14 when the phone actually launches.
Not every store will offer it so check with your local Sam's Club or hit the link above to see the list. In order to be eligible you must be a Sam's Club member, which you can do by going to the store and paying the annual membership fee or by signing up online.
The preorders started at 10:00 AM so you better hurry if you want an iPhone 4S on launch day.
On the company's website they have some suggested steps to prepare for getting a new iPhone as follows:
Sign up for a Sam's Club membership
Be sure to have an Apple ID which you can sign up for at their website
Upgrade your current iPhone to the latest version of iOS by connecting to your computer with iTunes running and following the instructions
Backup your data and we add be sure to transfer any purchases to your phone by following our suggestions here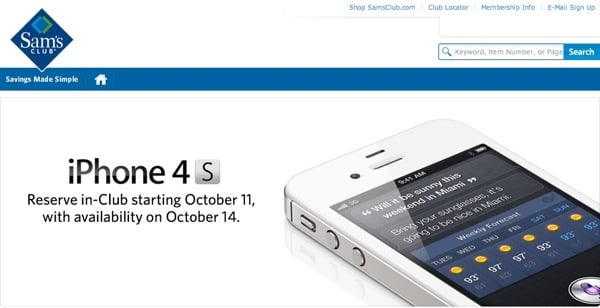 Sam's Club suggest bringing the following:
Old phone if you are replacing it
Social Security number of the primary wireless account holder
Government photo ID like a driver's license
Wireless carrier's account password if you have one
Sam's Club membership card
Apple ID and password
For more, check out Should I Buy the iPhone 4S? and Should I Upgrade from the iPhone 4?

As an Amazon Associate I earn from qualifying purchases.