Samsung 9 Series Ultra-Portable Challenges MacBook Air with Intel Sandy Bridge Processors (Video)
Earlier at the Consumer Electronics Show, Samsung had announced a thin and light ultra-portable professional notebook running on Microsoft's Windows 7 OS that will give the OS X MacBook Air a run for its money. The 9 Series ultra-portable class from Samsung will come in either an 11.6- or 13.3-inch screen size, challenging the similar-spec'ed 11.6- and 13.3-inch Apple MacBook Air.
Like the Apple ultra-portable, the Samsung machines will have an island-style keyboard arrangement, aluminum metal shell, and sleek, thin construction. But the similarities, hopefully, end there as Samsung is trying to best the Air on a number of fronts.
The Korean-electronics maker is saying that its laptop is the slimmest and lightest of them all–the 13.3-inch model clocks in at approximately 2.8 pounds and the 11.6-inch model will be at just 2.2 pounds. Moreover, the screen is said to be among the brightest displays with 400 nits of brightness, which Samsung claims to be 40 percent brighter than competing models.
Utilizing what Samsung calls a "dura-aluminum" shell, the company says that the laptop is twice as strong as regular aluminum on competitors.
With a 128 GB SSD, up to 8 GB RAM, and a number of ports with a cover that slide down to reveal them, the 9 Series will feature a very sleek design with curvy lines.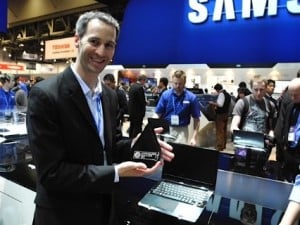 While Samsung is not releasing firm details, the company is giving a lot of speculative information on the design. For one, the 11.6-inch model may not make it to the U.S.–Stateside, only the 13.3-inch model will see a release. The 11.6-inch model will get either an  Intel Core i3 or i5 CPU, according to reps, though the 13.3-inch is said to come in i5 configurations though the display units are shown reportedly with an Intel Core i7 Sandy Bridge processor. Graphics is said to be driven by an Intel integrated GPU, unlike the Air which uses a Core 2 Duo CPU and discrete NVIDIA GPU. Moreover, while the keyboard on the model we saw did not have backlighting, the release model should come with a backlit keyboard.
Lighter, sleeker, and with a more capable processor that will last you for up to 7-8 hours on a single charge, the 9 Series from Samsung was also awarded a Notebooks.com Best of CES Award for the Thin and Light category.