Samsung Announces ATIV Smart PC and ATIV Smart PC Pro With Windows 8
In addition to the Galaxy Note 2, Samsung announced two new Windows 8 tablets during its Unpacked event at IFA 2012 in Berlin.
The Samsung ATIV Smart PC and Samsung ATIV Smart PC Pro both use Microsoft's Windows 8 desktop OS. Like the Lenovo ThinkPad Tablet 2, both ATIV PCs run the full version of Windows 8 which means they can run both new Windows 8-style apps and classic Windows 7 desktop apps.
Both devices are touchscreen devices with an optional keyboard. The keyboard attaches to the tablets magnetically, so users should be able to use them as laptops without worrying about the stability. Both ATIV units also come with an S Pen for use with the S Note app for Windows 8.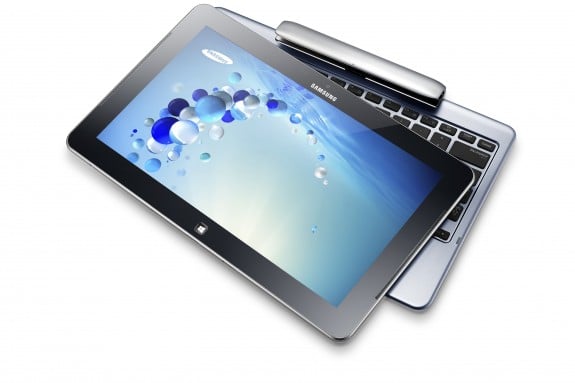 The ATIV Smart PC uses Intel's new low-power dual-core Clovertrail CPU. Because the new CPU doesn't need fans to cool it, Samsung can make the tablet just 9.9mm thin. The tablet looks a lot like a Samsung Galaxy Note 10.1 from the back, but will hopefully be a better tablet. The ATIV Smart PC will come with up to 2GB of RAM and up to 128GB of SSD storage. It will also feature 3G, 4G LTE, and Wi-Fi.
The Samsung ATIV Smart PC Pro is a bit thicker than the non-Pro version. It measures 11.9mm thanks to the cooling required for its Intel Core i5 CPU. The ATIV Smart PC Pro is more of a traditional Windows laptop with up to 4GB of RAM and 256GB of storage and an estimated eight hours of battery life. This is more of the tablet/laptop hybrid for users who need a bit more power but still want a tablet.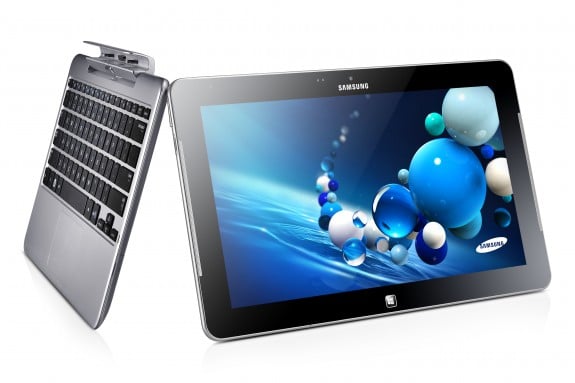 We don't know when the ATIV Smart PC lineup will come to stores, or how much it will cost. We assume we'll hear more about both devices as the October 26 release of Windows 8 draws near.