Samsung Announces Galaxy Tab 3 7.0
Samsung has announced a 7-inch version of the Samsung Galaxy Tab 3 that may be intended to compete with low-priced Android tablets like the Kindle Fire HD and Nexus 7.
According to the company's press release, the Galaxy Tab 3 will ship with a 1.2 GHz dual-core processor, 1GB of RAM, a 7" inch WSVGA display with a resolution of 1024 x 600 and it will start with 16GB of onboard storage by default. Cameras will include a 3 megapixel rear-facing camera for taking photos and a 1.3 megapixel front-facing camera for users to video chat with friends and family.
Some versions of the Samsung Galaxy Tab 3 7-inch will also have the ability to connect with 3G and 2G wireless data networks, though there will be no support for next generation LTE and 3G data standards like those used by AT&T, T-Mobile, Sprint and Verizon in the United States.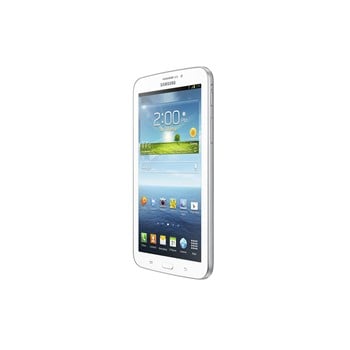 Samsung does indicate that the Wi-Fi variant of the device will be made available to users around the world beginning this May, with a worldwide rollout of the variant with mobile data connectivity following in June. The press release doesn't indicate in which markets users can expect either variant specifically, noting that "product availability varies by market and will be rolled out gradually."
According to Samsung, the device will ship with an enhanced user experience running on top of Android 4.1, and will allow users to easily share photos and videos with friends quickly.
Samsung also believes that the Galaxy Tab 3 7-inch's smaller bezel will make it more portable than its immediate predecessor, the Samsung Galaxy Tab 2 7-inch.
Read: Samsung Galaxy Tab 3 Photos & Specs Allegedly Leaked
The announcement of the Samsung Galaxy Tab 3 7-inch comes just a few weeks after rumored photos and specifications for its larger 10.1-inch and 8-inch siblings began to gain widespread attention. When compared to the rumored 1.5GHz dual-core processor, 5 megapixel camera, Bluetooth 4.0 and next-generation 4G and LTE internet connectivity of those devices, this device seems to be dedicated to hitting the low end of the Android tablet spectrum. If that's true, Samsung could be aiming this 7-inch device at territory now held by low-end media tablets like Google's Nexus 7 and Amazon's Kindle Fire HD.
Both the Kindle Fire HD with 16GB of storage and the Nexus 7 with 16GB of storage are now $199. If Samsung is aiming to compete with these devices it will have to price the Samsung Galaxy Tab 3 7-inch around that price point.